Spend some quality time in a holiday home in Boderne
Holiday cottages in Boderne, Bornholm, Denmark!
Recreational holiday only a few hundred metres from a lovely bathing beach
Guest assessments from Boderne
11 guests have granted an average assessment of 3,27 out of 5 possible stars.
Area
A holiday in Boderne means recreational days in rural surroundings, just a few hundred metres from a lovely sandy beach. When you get up in the morning, you can go for a refreshing swim in the Baltic Sea, and later in the afternoon enjoy a piece of pastry in the cosy beach café. Groceries are available within a radius of 5 km, and if you play golf, you will find a good golf course only 15 km from here. Bornholm is an ideal place for anglers, bird watchers and families who like to bathe during their holiday and experience the area on foot or by bike. The beautiful island has more than 250 km of cycle tracks, of which most of them are car-free. Due to the fact that Bornholm is a small island, it is possible to reach the many exciting attractions within max. one hour, e.g. picturesque ports, traditional smoke houses, open artist workshops, museums, entertaining event centres, the finest white beaches and fascinating nature.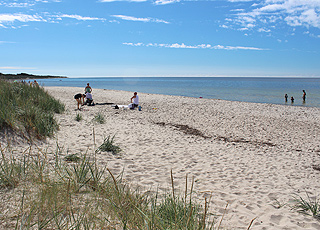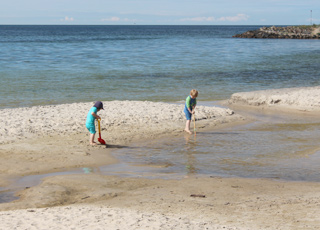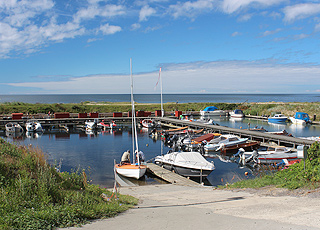 Beach
The fabulous bathing beach 'Boderne' is in the immediate vicinity of your holiday home. Here you can sunbathe in peace, play on the beach and jump into the sea from the big stones. At the beach you will find a marina, a café, a shop, good sanitary facilities as well as a parking place. The beaches along Østre and Vestre Sømark (8 km) are long and varied. The sand is a course and the water gets deep fast. 'Sose' beach is a rather unknown bathing resort and a lovely excursion spot for those who are interested in nature and history: The coastline offers exciting sand deposits and during the Scanic War in 1674, 19 Swedish warships were destroyed in this bay. In Dueodde the many sand bars make it possible to bathe in shallow and deep water and the beach is famous for its fine and clear water (16 km).
Nature
In a small wood near Nexø and 15 km from your holiday home, you will find 'Gryet', Bornholm's largest collection of monoliths. In the middle of the island is one of the most beautiful forests in the country, Almindingen, with Bornholm's highest point, Rytterknægten with a tower (162 metres above sea level), beautiful forest lakes and rift valleys (17 km). 'Paradisbakkerne' is an undulated rock landscape with three walking paths. Go for a long walk in the rift valleys and the heathery raised bogs. Experience the peculiar vegetation of the area and the boulders, among others 'Rokkestenen', a rocking stone from the Ice Age (20 km). Not far away from Gudhjem (30 km) you will find 'Helligdomsklipperne'. The caves and rugged rock formations in the water contribute to the creation of the dramatic sceneries. Northwest of here is the valley 'Døndalen' with a stream that creates a 25 metre high waterfall 'Døndalsfaldet' every spring.
Activities
Bornholm has three golf courses: Nexø Golf Klub (15 km) is the nearest one, but also Bornholms Golf Klub in Rønne (17 km) and Rø Golfbaner (28 km) are worth visiting. If you wish to experience Bornholm's unique nature at close range, you can use the many bicycle paths or follow the abundant and exciting cycle tracks and watch the birds. Follow for example an old life-saving path and experience the many different ranges of hills and scenic views. Anglers can fish from the shores, on the sea, or visit 'Stenbrudssøen Nexø Bornholm'. This Put & Take fishpond was once a sandstone quarry. Today it is the largest fishpond of Bornholm (22 km). The 'Gokart Center Bornholm' in Aakirkeby (8 km) and 'Bornholms Travbane' in the middle of Almindingen (8 km) are also recommendable.
Worth a visit
Only 8 km from your holiday home you will find 'Karen Dam - Håndvævede Textiler', where you can buy hand-woven textiles. In the 'flower town' Aakirkeby (9 km) you will find two attractions: 'Bornholms Automobilmuseum' and the experience centre 'NaturBornholm', where you can experience more about Bornholm's nature - right from the origination in the glowing lava more than a billion years ago. In Nexø (18 km) you will find three excursion spots: 'Nexø Museum', the childhood home of the famous Danish writer Martin Andersen Nexø (1869–1954), and 'Bornholms Sommerfuglepark & Tropeland'. Rønne (20 km) with i.a. the ceramic museum 'Hjorths Fabrik' is worth visiting. In 'Bornholms Middelaldercenter' you can see living quarters, a water mill, a forge and fortified castle mounds from the Middle Ages (21 km). One of the typical smoke houses is 'Hasle Røgeri' where fish are still being smoked according to old tradition (30 km).
Excursion spots
Gudhjem (30 km) is well-known for its three small and cosy fishing harbours, the red roofs, the steep streets, the picturesque half-timbered houses, the smoke houses, the artists, the galleries, the workshops, and the almost exotic atmosphere. In Gudhjem you can i.a. visit the art museum 'Oluf Høst Museum'. 32 km from you holiday home you will find the nature and amusement park ''oboland Brændesgårdshaven' with i.a. rowing boats, aerial ropeway, climbing frames, wooden cars, monkeys, goats and a huge water park. 'Hammershus', Northern Europe's largest castle ruin and the most visited attraction on Bornholm, was abandoned around 1745 and fell in decay hereafter. Today the ruin is preserved (42 km). The landmarks of Bornholm are the whitewashed, round churches, which are more than 800 years old. The most famous of these churches, Østerlars, Olsker, Nylars and Nyker, have served as defence and storage of supplies.
Author: Ann Winter
Copyright © 2003-2020 Sol og Strand Feriehusudlejning A/S
Holiday homes in Boderne
Inclusive cleaning

 

Boderne

 

Beds: 6   •   Bedrooms: 3
Pets allowed: 1   •   150 m to water

 

 

 

Boderne

 

Beds: 6   •   Bedrooms: 3
Pets allowed: 2   •   900 m to water

 

 

 

Boderne

 

Beds: 6   •   Bedrooms: 3
Pets allowed: 1   •   1000 m to water

 

 

 

Boderne

 

Beds: 12   •   Bedrooms: 6
Pets allowed: 2   •   1200 m to water