Spend some quality time in a holiday home in Årsdale
Holiday cottages in Årsdale, Bornholm, Denmark!
The old, idyllic fishing hamlet Årsdale offers genuine Bornholm atmosphere with fishing boats, smokehouses and rocky coasts.
Guest assessments from Årsdale
10 guests have granted an average assessment of 4,50 out of 5 possible stars.
Area
The cosy, quiet and unspoiled fishing hamlet is situated by the Baltic on the rock-bound coast of Bornholm. Årsdale offers i.a. a vivid fishing harbour with both fishing boats and yachts, an old quarter, which is dated as far back as 1409, with narrow streets, low, charming and well-preserved houses, 3 active smokehouses: 'Hjorts Røgeri', 'Kowsky's Røgeri' and 'Årsdale Silderøgeri', which offers freshly smoked specialities all year round, as well as the mill 'Årsdale Mølle' from 1877, which can be seen in function and milling by the force of the wind. In Årsdale you will also find a number of restaurants, craftsmen and painters, and in Svaneke, Denmark's smallest, easternmost and most idyllic market town, which is situated 3 km north of Årsdale, you will find good shopping possibilities among other things.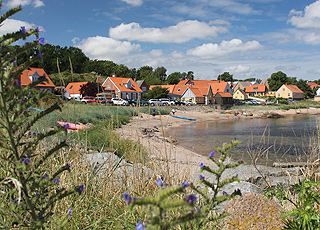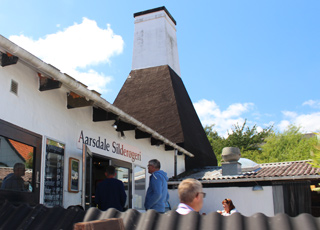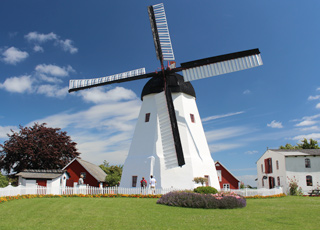 Beach
Cliffs characterize the eastern coast of Bornholm, but by Årsdale you will find a small and lovely bathing beach with slightly reddish and coarse sand/gravel. As the water is relatively deep here, you can jump into the water from the surrounding cliffs. 9 km towards south you will find the beach of Balka, which is one of the most popular beaches on Bornholm. The long beach is sheltered from the westerly wind and stretches all along the bay 'Balkabugten'. The wide, white and sandy beach has shallow water and a sandy bottom, which makes it very suitable for children. It is possible to rent water cycles, deck chairs and surf equipment here. A slope leads from the ice-cream stall down to the waters edge, and makes it possible to bring a perambulator and a wheel chair to the beach. By Dueodde, on the southern tip of Bornholm, you will find the beach 'Østersøstranden', which is a magnificent, wide, chalk-white and child-friendly beach.
Nature
Årsdale is surrounded by the cliff headland 'Oren' towards north, a lovely bathing beach and the heathery area 'Årsdale Byvang' towards south and green areas as well as fields inland. At the headland 'Hullenakke', slightly north of Årsdale, you can experience a large, rounded boulder, which looks like a dog's head. From Årsdale a path leads you along the shore to Svaneke. The path winds scenically through the landscape, the forests and out by the rocky coast. Towards south the nature harbour 'Svenskehavn' is situated, and from here you can follow another beautiful coastal path to the quarry 'Frederiks Stenbrud' near Nexø. Along this path it is sometimes necessary to climb on the cliffs. 'Paradisbakkerne' by Nexø is an undulating rock landscape with a number of walking paths. Experience the rift valleys, the heathery raised bogs, the boulders and the peculiar vegetation of the area (6 km).
Activities
Anglers will find very good opportunities all along the eastern shores of Bornholm, i.a. on the cliff headland 'Oren' by Årsdale, on the cliffs by Hullenakke and by the net drying grounds. If you wish to walk/climb on the rocks and/or study birds, you can follow the coastal paths - both north and south of Årsdale. Golf players can try out no less than 3 courses on the island. The course of 'Nexø Golf Klub' in Rønne is the closest, but the courses of 'Nordbornholms Golf Klub' and 'Bornholms Golf Klub' are also recommendable. Mange lovely nature experiences await you along the 250 km good bicycle paths, from which the main part is traffic-free. Bicycles are for rent in Svaneke. Furthermore, a number of walking routes are available in the scenic and characteristic nature.
Worth a visit
The landmark of Årsdale is the old, Dutch mill 'Årsdale Mølle', which is open to the public and still mills according to the old and traditional methods. The stone polisher's workshop 'Årsdale Mølle Stensliberi' is situated in an old warehouse next to the mill, and here you can observe how sandstone and granite is transformed into smooth ornaments, watches etc. Visit Svaneke - a beautiful harbour town with well-preserved half-timbered houses, old merchant¿s houses, lush gardens, smokehouses, potteries, glass factories, galleries, a drops factory as well as many shops and cosy restaurants. 'JOBOLAND Brændesgårdshaven' in Svaneke is a former farm, but today a popular nature and amusement park with i.a. water world, a unique profusion of flowers and numerous attractions. In 'Bornholms Sommerfuglepark og Tropeland' by Nexø you can experience flowers, lovely scents, birds and at least 1,000 colourful butterflies, which flies around in a large, tropical glasshouse (6 km).
Excursion spots
'Oluf Høst Museum' has been established in the home of the artist in Gudhjem, and here you can experience his paintings (18 km). 'Bornholms Middelaldercenter' in Gudhjem is a historic experience centre with a live environment from the Middle Ages (the period 1350-1450) with people, animals, houses, water mills and a fortified castle mounds. 'NaturBornholm' in Åkirkeby informs of the Bornholm nature - right from the origination in the glowing lava more than 1 billion years ago (20 km). At the art museum 'Bornholms Kunstmuseum' works of famous Bornholm painters as well as theme exhibitions with art, design and handicraft can be observed (25 km). Hammershus is an impressive old castle from around the year 1250, which rises from a steep rock hillock on the northern tip of Bornholm. Hammershus is the largest castle ruin in Northern Europe (37 km). The characteristic, whitewashed round churches are the landmarks of Bornholm, and the most famous are Østerlars, Olsker, Nylars and Nyker.
Author: Ann Winter
Copyright © 2003-2020 Sol og Strand Feriehusudlejning A/S
Holiday homes in Årsdale
 

Årsdale

 

Beds: 4   •   Bedrooms: 1
Pets allowed: 1   •   300 m to water

 

 

 

Årsdale

 

Beds: 4   •   Bedrooms: 1
Pets allowed: 1   •   300 m to water

 

 

 

Årsdale

 

Beds: 2   •   Bedrooms: 0
Pets allowed: 1   •   300 m to water