Spend some quality time in a holiday home in Åkirkeby
Holiday cottages in Åkirkeby, Bornholm, Denmark!
When you rent a holiday home in Aakirkeby on Bornholm, the rocky island of Denmark, you are surrounded by scenic nature, a cosy and active town as well as sights for the whole family. The holiday area Aakirkeby is an ideal holiday destination, when you wish to combine relaxation by the holiday home and the beach with experiences in town and nature.
Guest assessments from Åkirkeby
65 guests have granted an average assessment of 4,18 out of 5 possible stars.
Area
Between Rønne and Nexø and 6 km from the south coast of Bornholm, you will find the 'flower town' - the charming commercial town Åkirkeby. The beautiful town contains e.g. a mediaeval church with a famous baptismal basin, more charming half-timbered houses, a cosy square, where markets are arranged, the smokehouse Bakkarøgeriet, where you can taste the freshly smoked specialities, as well as galleries and other interesting sights. Åkirkeby offers good shopping opportunities, and with its central location on Bornholm, which makes it easy to reach other towns, tourist attractions and famous nature areas, it is a popular holiday area.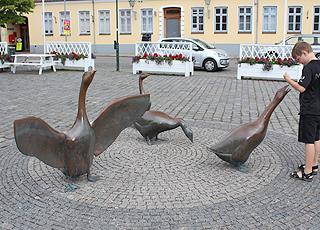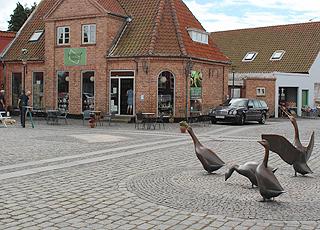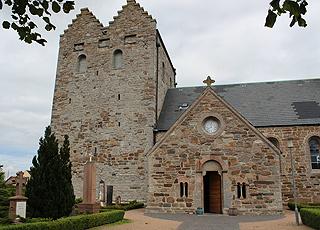 Beach
6 km from Åkirkeby you can make use of the lovely, inviting and child-friendly sandy beach Boderne Strand. Dunes with plantation shelter the beach. The beach of Dueodde is magnificent, wide, chalk-white and very suitable for children. The slightly shelving bottom has a number of sand bars and the water is clear and clean. Windsurfing is a very popular activity by the beach Dueodde Strand (15 km).
Nature
Sea, fields and scenic forest areas surround Åkirkeby. In the centre of Bornholm and 3 km from Åkirkeby you will find Denmark's fifth largest forest: Almindingen - an idyllic and varying forest in a highland with e.g. ponds and small lakes. Here you will find the 12 km long rift valley 'Ekkodalen' as well as 'Rytterknægten' - the highest spot on Bornholm. The nature area 'Paradisbakkerne' by Nexø is a hilly dune landscape with a number of walking routes. Along these you can experience rift valleys, raised bog with heater, boulders and peculiar vegetation (12 km). By the cliffs 'Helligdomsklipperne' near Gudhjem a stairway leads down through a deep gorge, and caves, grottos and the rugged cliff formations in the water create dramatic scenery (16 km). Just north-west of here you can visit the valley 'Døndalen' with a stream, which forms a 25 m high waterfall 'Døndalsfaldet' in the spring.
Activities
In 'Bornholms Gokart Center' in Åkirkeby you can challenge each other at a high speed. At the trotting track 'Bornholms Travbane' in Åkirkeby you can watch horse races during the summer. It is only natural for anglers to fish directly from the shore, but it is also possible to fish on the sea as well as in the fishponds and streams of the island. Golf players can test more, scenically situated courses on Bornholm, from which the course by Nexø Golf Klub (12 km) is the nearest. Bornholm offers a number of marked routes, which can be followed on foot, on bicycle or on horseback.
Worth a visit
'Bornholms Automobilmuseum' in Åkirkeby displays a large collection of e.g. old cars, motorcycles and bicycles. NaturBornholm in Åkirkeby is an experience centre, which tells the story of Bornholm's nature. Experience f.x. models of dinosaurs, live crocodiles, sense room and a time machine. Enjoy the interesting paintings, glass art, sculptures etc. in the galleries and art workshops of Åkirkeby. In Nexø you will find more museums, e.g. the childhood home of the writer Martin Andersen Nexø, a museum of fishery and shipping 'Nexø fiskeri- og søfartsmuseum' and the butterfly park 'Bornholms Sommerfuglepark & Tropeland' (12 km). The characteristic, whitewashed round churches are the landmarks of Bornholm. The 4 most famous are: Østerlars, Olsker, Nylars and Nyker.
Excursion spots
'Bornholms Middelaldercenter' in Gudhjem is a historic experience centre with people, animals, houses, water mills and a fortified castle mounds. Here you get an impression of the farm life in the period 1350-1450 (16 km). At the art museum 'Bornholms Kunstmuseum' you can admire works of famous Bornholm painters as well as theme exhibitions with art, design and handicraft. Experience the 'capital' of Bornholm - Rønne, with the lovely, old half-timbered houses, music, theatre, good shopping opportunities and restaurants. The harbour buzzes from life and atmosphere in the summer (17 km) 'JOBOLAND Brændesgårdshaven' in Svaneke is a former farm, but today a popular nature and amusement park with a unique profusion of flowers and numerous attractions (23 km). Hammershus is an impressive, old castle from 1250, and the ruin rises from a steep rock hillock on the most northern tip of Bornholm. Hammershus is the largest castle ruin in Northern Europe and definitely worth a visit (40 km).
Author: Ann Winter
Copyright © 2003-2020 Sol og Strand Feriehusudlejning A/S
Holiday homes in Åkirkeby
 

Åkirkeby

 

Beds: 4   •   Bedrooms: 2
Pets allowed: 1   •   6000 m to water

 

 

 

Åkirkeby

 

Beds: 5   •   Bedrooms: 2
Pets allowed: 2   •   5000 m to water

 

 

 

Åkirkeby

 

Beds: 6   •   Bedrooms: 2
Pets allowed: 2   •   6000 m to water

 

 

 

Åkirkeby

 

Beds: 8   •   Bedrooms: 4
Pets allowed: 2   •   6000 m to water

 

 

 

Åkirkeby

 

Beds: 4   •   Bedrooms: 1
Pets allowed: no   •   6000 m to water

 

 

 

Åkirkeby

 

Beds: 4   •   Bedrooms: 1
Pets allowed: no   •   6000 m to water

 

 

 

Åkirkeby

 

Beds: 6   •   Bedrooms: 2
Pets allowed: 1   •   6000 m to water

 

 

 

Åkirkeby

 

Beds: 4   •   Bedrooms: 1
Pets allowed: no   •   6000 m to water

 

 

 

Åkirkeby

 

Beds: 5   •   Bedrooms: 2
Pets allowed: no   •   6000 m to water

 

 

 

Åkirkeby

 

Beds: 4   •   Bedrooms: 2
Pets allowed: no   •   6000 m to water

 

 

 

Åkirkeby

 

Beds: 4   •   Bedrooms: 2
Pets allowed: 1   •   6000 m to water

 

 

 

Åkirkeby

 

Beds: 4   •   Bedrooms: 1
Pets allowed: 2   •   6000 m to water

 

 

 

Åkirkeby

 

Beds: 4   •   Bedrooms: 1
Pets allowed: 1   •   6000 m to water

 

 

 

Åkirkeby

 

Beds: 6   •   Bedrooms: 1
Pets allowed: no   •   6000 m to water