Spend your holiday in a holiday home with a pool in Denmark
Rent a holiday home with a pool with Sol og Strand and do not care about the weather. Pamper your family with a holiday home with a pool and enjoy the heat and water inside.
Show all holiday homes with swimmingpool ()
If you want to spend your holiday in Denmark with children, the pool houses offered by Sol og Strand are just perfect. When the weather does not invite you for a swim in the sea, a holiday home with a pool is just the right thing for occupying children.
Sol og Strand Sommerhusudlejning has more than 500 private holiday homes in all of the popular holiday areas in Denmark including Bornholm. The majority of our pool houses are, however, close to the sea, in particular Blåvand and the islands of Fanø and Rømø and in Marielyst on Falster. Many of our pool-houses also have a whirlpool and sauna, so you can create your own wellness-oasis and combine the swim and wellness. In a holiday home with a pool you can take a swim all year round and you will be sure to have hours and hours of entertainment for children as well as grown-ups. It is such a pleasure to everybody who takes to water like a duck!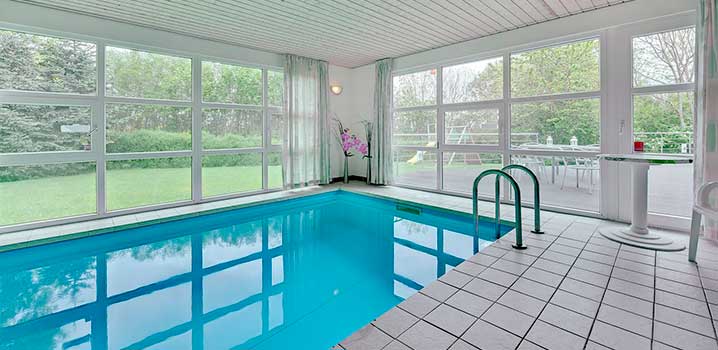 Big houses
Many pool houses are big, spacious holiday homes with a lot of place and many bedrooms. You can have a holiday indluding several generations under the same roof and have a wonderful time. The grandchildren can romp in the pool as often as they want to, while the grandparents watch them and enjoy their playing. In the big pool houses there is room enough for a holiday with your friends, or you could rent a holiday home with a pool for your next party - a pool party for grown-ups.
Many of the big houses has a table for billards, table tennis and games like that. But there is also something for the grown-ups, as some of the big fitness rooms have various equipment. Rent one of our big pool houses with room for various activities. A big holiday home with a pool could be just the right frame for your fantastic holiday.
Luxury holiday homes with a pool
When you rent a luxury holiday home with a pool with Sol og Strand, you will have a holiday on 1st class. This is just 100% relaxation and holiday just as you want it to be.
A whirlpool, sauna and a pool are just fantastic when you spend your holiday in a luxury holiday home in the winter months. You can come home and get warm after a long walk on the beach or in the woods. Some of our luxury holiday homes also have an outdoor whirlpool that you can enjoy during the day and in the evening.
A luxury holiday home is cheaper outside the peak season - and one could say that you get more value for money, as you of course will spend more time in the house, when the weather is not very good.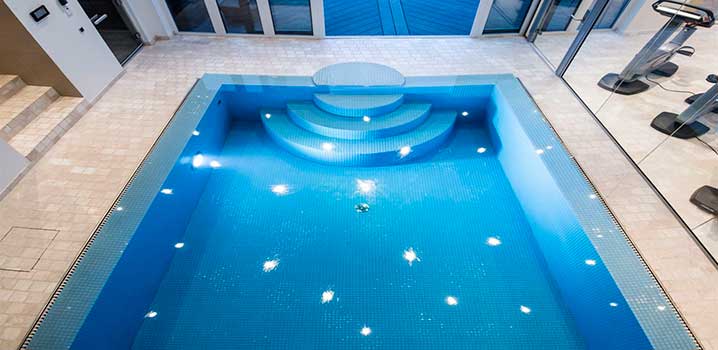 Holiday homes with a shared pool
Sol og Strand furthermore offers holiday homes with a shared indoor and outdoor pool, e.g. in the holiday towns of Rømø, Havneby, where you can play and have a wonderful time together with other children and grown-ups.
Top water quality and safety!
The increasing demand for pool houses has made it necessary to focus on safety and quality. All holiday homes with a pool or a beach water whirlpool, rented through Sol og Strand are therefore checked by our authorized service staff at least once a week. The chlorine and the pH value of the water are analyzed, checked and adjusted, if necessary. At the same time, the temperature and the clearness of the water are checked and tested.
All service staff at Sol og Strand have been trained by the Danish Environment and Food Administration and have a diploma in pool technics and water quality. This is your guarantee of a correct inspection and as tenants you do not have to worry about the quality of the water.
The water temperature of an indoor pool is normally between 24 and 28° C. It takes energy to heat big amounts of water, but you can reduce the energy consumption by pulling the thermal cover on top of the pool and thus reduce the energy consumption as well as the evaporation in the pool room.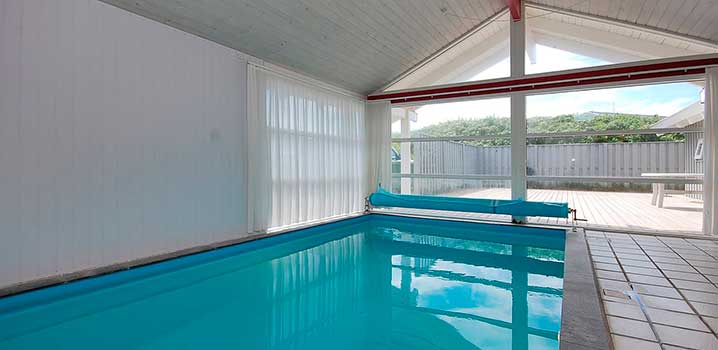 Water Quality
The water in the pools and the beach water whirlpools is of top quality. Consequently, it is important that you respect some simple bathing rules that you find in the house. In order to ensure that you have the optimum water quality, the number of persons using the facility should be identical to the number stated when booking the house. This is crucial in order that the service person can make the correct dosing of chlorine. The more people using the pool, the faster the chlorine is used up. The value of chlorine should therefore be adjusted to correspond exactly to your holiday.
A successful holiday in a holiday home with a pool requires the observance of some simple bating rules, that you find in the house.
Attractions close to the holiday homes with a pool
If you spend your holiday in a Sol og Strand holiday home with a pool, you also have the possibility to visit some of the big number of attractions in the various areas. Sol og Strand sommerhusudlejning has developed an app with a description of about 1500 attractions in Denmark. The description also includes routes, telephone numbers and links to websites, but not opening hours and prices. You just chose your interests and you will find pertinent attractions on a list or a map based on your actual positon.
Find the perfect holiday home with a pool for your holiday.
Holiday homes with special facilities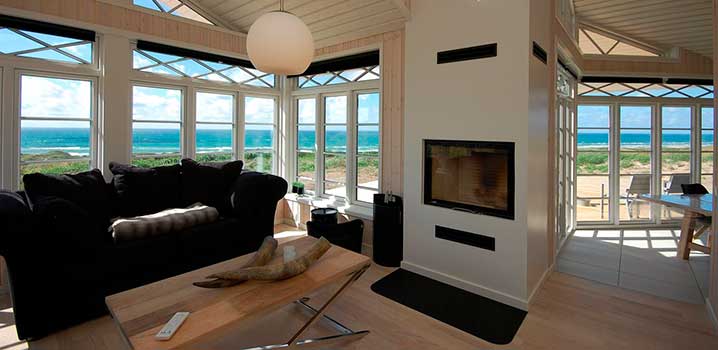 Luxury holiday home
Spend your holiday on 1st class in a luxury holiday home with a wonderful interior, luxurious details, a lot of equipment, a view of the sea or wellness.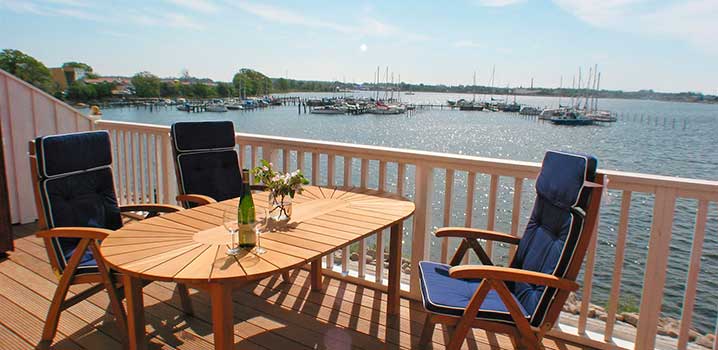 Marina houses
Holiday homes in evocative, marine surroundings with a view of the marina. Stay in a marina house, and you will be so close to the sea and cities.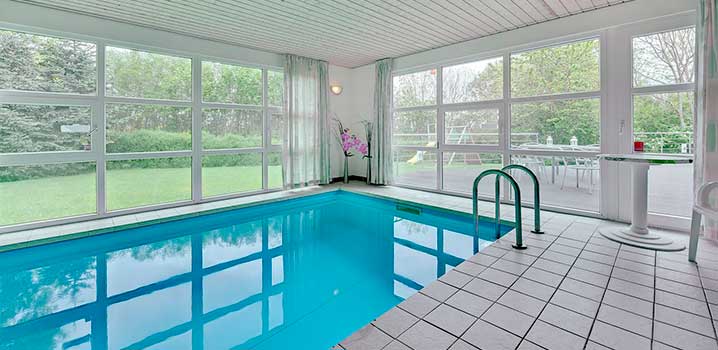 Swimmingpool
Rent a holiday home with a swimming pool and enjoy a dip in the warm water no matter the time of the year and weather. Children will just love it!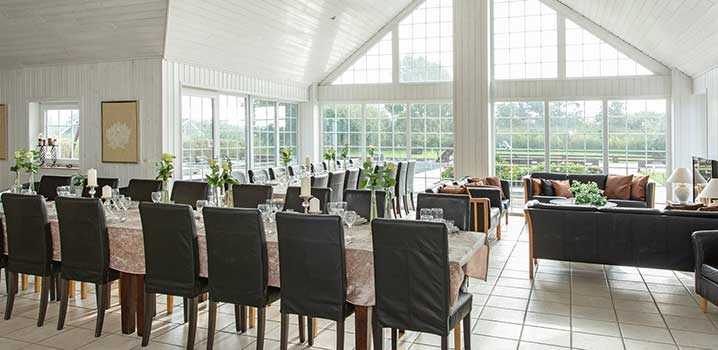 Big holiday homes for the whole family
Is the whole family is going on holiday or do you need a place for more than 12 persons to stay? See the choice of big holiday homes.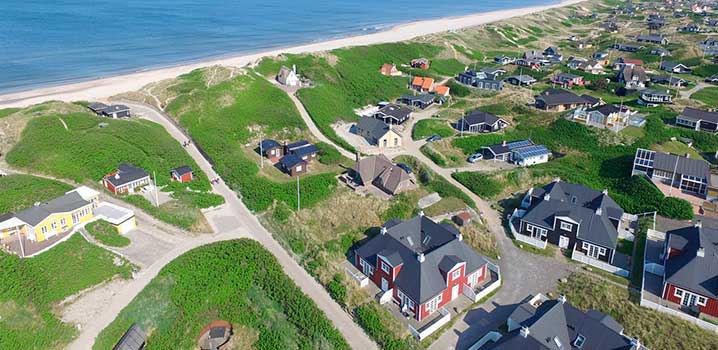 Holiday in a holiday flat
Would you like to have a view of the sea or be close to activities for children? You can have both, when you stay in a holiday flat.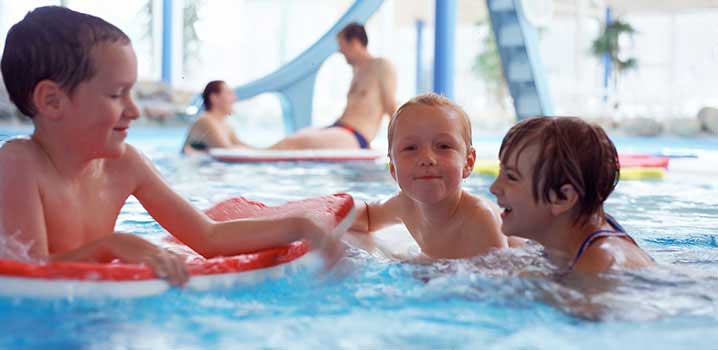 Free activity centre
Rent a holiday home or a flat with free access to an activity centre. This is a holiday with free activities and fun for the entire family.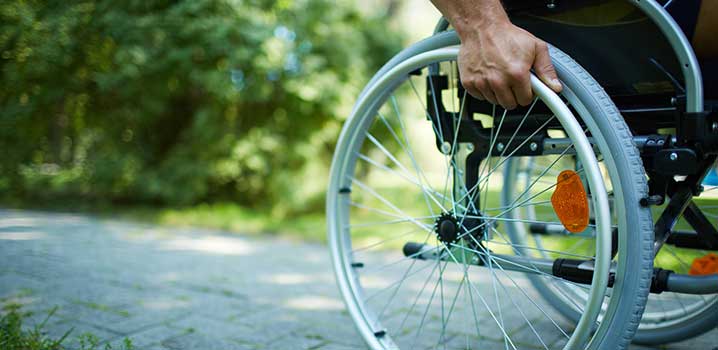 Holiday homes suitable for wheelchair users
A wheelchair is no hindrance of a lovely holiday in a holiday home. See the choice of holiday homes suitable for wheelchair users in Denmark and pick your favourite.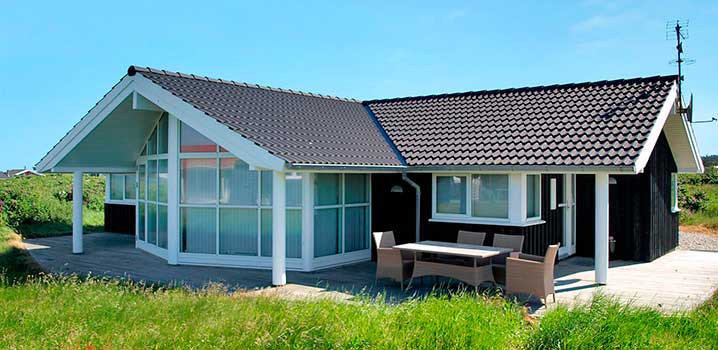 Rent a holiday home
Read about the history of rental of holiday homes and where you could spend your holiday in a holiday home in Denmark and the discounts available when renting a holiday home.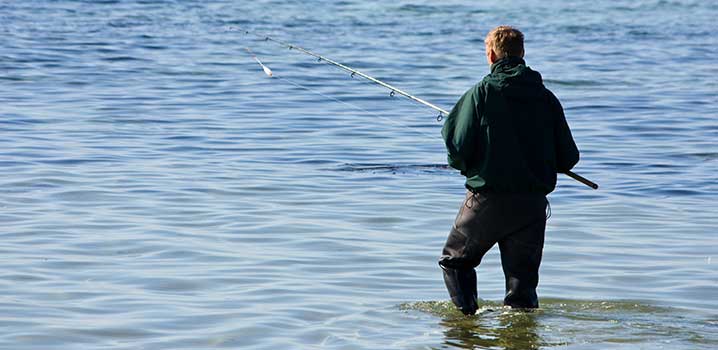 An angler house for the angler
If a fishing rod and waders are parts of your holiday, you should rent a holiday home adapted to anglers – close to the sea, piers, streams, and lakes.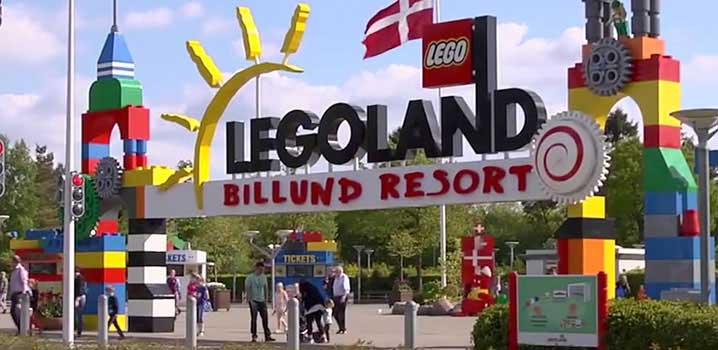 Holiday home close to LEGOLAND®
Stay close to LEGOLAND® in your holiday and have all the funny things right close to you. You will get a 10 % discount on admission tickets for LEGOLAND®, when you rent a holiday home.