Ørnereservatet
---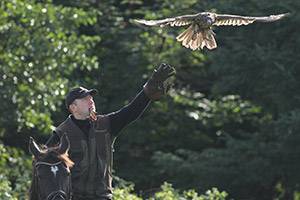 In Ørnereservatet you can feel the noise of wings above your head.
Both children and adults love the magnificent sight of the large Nordic birds of prey, like e.g. the golden eagle, the sea eagle, the gyr falcon and the peregrine falcon, when they display their excellent hunting techniques and their ability to co-operate with humans.
Through thousands of years this hunting technique and co-operation have been praised by the Vikings, the Greeks as well as noble and Royal persons.
A trained falcon, which is kept by humans, is as free as any bird. It unfolds in total freedom and complete harmony with the surrounding nature. Voluntarily it returns to its falconer, even though it could easily fly away.
Ørnereservatet is the only eagle sanctuary of its kind in Europe - and throughout the last 25 years, more than 1.5 million people from all over the world have experienced the large birds of prey.
---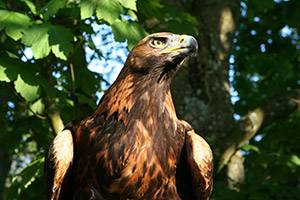 ---
Ørnereservatet
Skagensvej 107
Tuen
9881 Bindslev
Tlf: 98 93 20 31

Show on map
Copyright © 2003-2020 Sol og Strand Feriehusudlejning A/S