Home

>

Zoos

>

Guldborgsund Zoo og Botanisk Have
Guldborgsund Zoo og Botanisk Have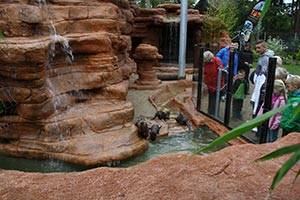 Guldborgsund Zoo & Botanisk Have
In the centre of Nykøbing Falster you find a cosy and unique, 83 years old zoo. Guldborgsund Zoo & Botanisk Have has more than 80 different animals from all over the world and an abundance of plants, which is definitely worth a visit for the whole family. Take a trip among wild and exotic animals.
At your trip in the garden you can see Siberian tigers, lively lemurs and cute meerkats. In the humid rain forest you will hear the noise of exotic animals, golden lion tamarins jump around curiously, while the cotton-top tamarins lie in wait. At the Zoo-School you can experience the amazing world of mammals, amphibians and reptiles. There are terrariums so you can get all close to the animals, e.g. big 'bomb-sniffing rats' and little frogs and hissing cockroaches.
In the footsteps of the dinosaurs

Join an exciting time travel and see an abundance of beautiful plants that dominated the world 65 million years ago. In the Dinohaven you can for instance see ferns, huge horsetails, the dinosaur tree and beautiful magnolia of the era of dinosaur.
Fun and play for everybody
The garden has funny games and challenging nature playgrounds for active children and families. You find the best playgrounds on Falster, where all children can play in the towers or in the zip wire.
When you get hungry you can easily find cosy places to enjoy your food, and in the summer period you can visit the café or the Lama kiosk and be tampered by the assortment.
---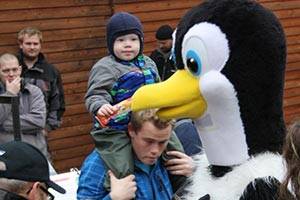 ---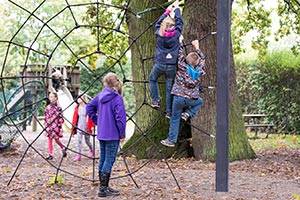 Guldborgsund Zoo og Botanisk Have
Østre Allé 97
4800 Nykøbing F
Tlf: 54732700

Show on map
Copyright © 2003-2020 Sol og Strand Feriehusudlejning A/S