AQUA Akvarium og Dyrepark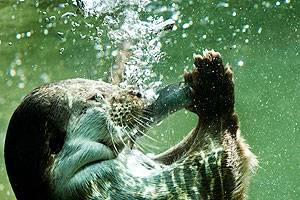 Visit AQUA Akvarium og Dyrepark and see the animals at close range
Go on an amusing and educational journey in AQUA Akvarium & Dyrepark - Northern Europe's largest freshwater aquarium, which imparts knowledge about the animals and fish in and by inland waters. AQUA is also a large animal park with animal facilities, a wilderness path, a playground and the play area "Vandets Kraft" (the force of water). In AQUA you can see otters and fierce predatory fish hunt in the deep lakes while the ducks are diving and the beavers build a dam. You can also experience cuypus, minks, storks, adders, wild boars, raccoon dogs and raccoons here. The cafés in the park offer food and drinks.
Activities for everyone
In AQUA you will find activities and experiences for children, young people and adults - both inside and outside and in all kinds of weather. Touch the fish in the touch pool, come close to the secret life of the animals in the deep lakes and learn more from the big exhibitions. Join us when the animal keepers feed the animals. AQUA has a daily activity program with feedings and speaks. In AQUA's lovely park you can relax, enjoy the animal life or try your strength against the wilderness path, the water cannons and all of the other amusing water activities. Remember to bring dry clothes!
Play and learn about Gudenåen, Denmark's only river

On the 2nd floor in AQUA you can experience the progress of Gudenåen - from the source in Tinnet Krat to the outflow into Randers Fjord. Experience the life of Gudenåen and learn about the interesting animals that live her - right from the small insects to the large sneaking pikes. Hear Moder Gudenå tell about her life as a river, and test if you can jump like a salmon or fly as a kingfisher.
Open all year
AQUA is an all-year attraction, which is only closed a few days around Christmas and New Year.
---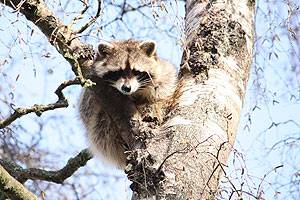 ---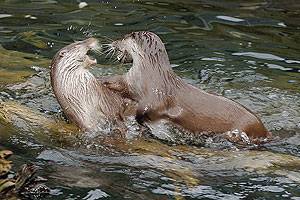 ---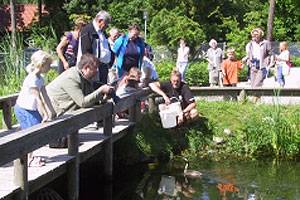 AQUA Akvarium og Dyrepark
Vejlsøvej 55
8600 Silkeborg
Tlf: 89212189

Show on map
Copyright © 2003-2020 Sol og Strand Feriehusudlejning A/S