Zoos, Denmark
Denmark offers many kinds of zoos. Here you can experience f.x. mini zoos with a few animals, which can often be cuddled, large zoos with many different animals from all continents, animal parks with a certain kind of animal as the theme, like f.x. bears, crocodiles, butterflies and parrots, as well as large animal parks, where you can go on safari in your own car or with a bus among the free-range animals from exotic countries. Furthermore, you can visit buffalo and deer farms, eagle sanctuaries, nature reserves with red deer, farms with an old domestic stock as well as a rain forest, terrariums or other tropical facilities, which are inhabited by exotic animals, which are comfortable in the humid and warm environments. In the fresh and salt-water aquariums you can admire all sorts of interesting fish, seals and sharks, touch crabs and other sea animals, and watch as they are being feed.

Show on map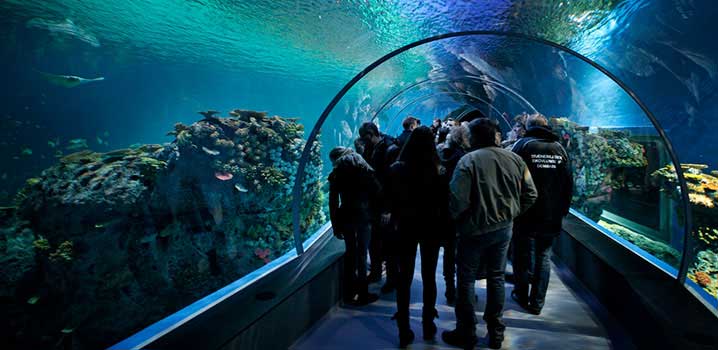 AQUA Akvarium og Dyrepark
Welcome to AQUA - a pearl of family experiences!
Blåvand Zoo
A cosy zoo with both domestic and exotic animals
Bornholms Sommerfuglepark og Tropeland
Brilliantly coloured butterflies in a roofed nature park in Nexø
Den Blå Planet
Visit Northern Europe's largest aquarium in a spectacular building near Copenhagen.
Falkoneriet Møns Klint
Fascinating location, beautiful falcons and falcon chases at the top of Møn
Frydenlund Fuglepark
Hundreds of birds from all over the world
Givskud Zoo
Go on safari in your own car and come close to wild animals from the whole world
GLAD ZOO
80 different species of animals and birds near Lintrup
Guldborgsund Zoo og Botanisk Have
Animals from the whole world in an inviting park
Jyllands Park Zoo
A paradise for children in Videbæk
Knuthenborg Safaripark
Visit one of Scandinavia's greatest safari parks.
Krokodille Zoo
Experience all crocodile species of the world under the same roof - in Eskildstrup on Falster
Minidyrehaven Ribelund
A cosy excursion spot, where you can come close to the animals
Munkholm Zoo
Munkholm Zoo is a cosy zoo at the children's level.
Nordsjællands Fuglepark
Experience beautiful, colourful and rare birds from the whole world in North Sealand.
Nordsø Akvariet Vorupør
Nordsø Akvariet takes you to the deep of the ocean
Odense ZOO
Odense Zoo - really, really close!
Odsherreds Zoo Dyrepark
Zoo in a scenic and hilly landscape in Asnæs
Randers Regnskov
Jungle paths, rocks, crocodiles and water falls. Randers Regnskov lives up to its name.
Ree Park Safari
Exciting experiences in the big and beautiful safari park on Djursland - on the terms of the animals.
Skandinavisk Dyrepark
Experiences for everyone
Skærup Zoo
Get close to the animals in the peaceful park near Børkop
Terrariet Vissenbjerg - Fyns Minizoo
Scandinavia's largest collection of live reptiles and amphibians from the whole world.
Zoologisk Have
In Copenhagen Zoo you can go exploring among animals from the whole world - from the tropics to the Arctic regions.
Øresundsakvariet
Acquaint yourselves in the amazing world under the sound Oresund in Helsingør
Ørnereservatet
Observe the eagles at the sanctuary near Tversted
Aalborg Zoo
Activities and exotic animals in the capital of Northern Jutland
Copyright © 2003-2020 Sol og Strand Feriehusudlejning A/S