Home

>

Vikingecenter Fyrkat
Vikingecenter Fyrkat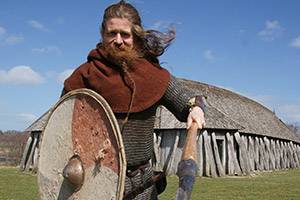 In a scenic area, right outside Hobro, you can come close to everyday life of the Vikings at Vikingecenter Fyrkat. Vikingecenter Fyrkat consists of nine re-constructed houses with workshops and ramparts. The impressive fortification Fyrkatborgen was erected in 980 under the king Harald Bluetooth. Just outside the ring embankment one of the longhouses has been re-constructed. On many days throughout the summer you can experience activities on Fyrkat.
In Denmark we only know of five fortresses, which are surrounded by this type of ring embankment. The Fyrkat castle does no long exist, but the ring embankment can still be seen, and the former 16 longhouses with curved walls have been marked with white stones.
The archaeological findings, which have been made around the castle and the graves, are now exhibited at Hobro Museum.
Free admission for children.
Vikingecenter Fyrkat
Fyrkat 37 B
9500 Hobro
Tlf: 31990667
www.nordmus.dk/vikingecenter-fyrkat

Show on map
Djursland and Mols, Havndal
Distance to attraction: 20,73 km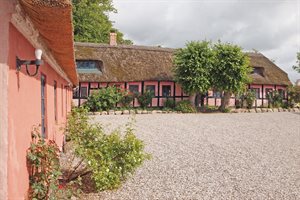 11 Beds, 5 Bedrooms


1 week from EUR 477
Copyright © 2003-2019 Sol og Strand Feriehusudlejning A/S