Home

>

Frilandsmuseum Hjerl Hede
Frilandsmuseum Hjerl Hede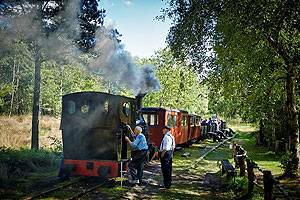 Denmark's most idyllic open-air museum, where the whole family can enjoy an exciting and educational experience with room for tranquility, coziness and play.

The open-air museum Hjerl Hede is famous for its living history of the good, old days - during the summer holidays and for Christmas.
Life in the countryside is portrayed inside as well as out in over 50 old buildings, when almost 100 volunteers make it come to life.

Meet the huckster or taste the old fashioned candy or the strong tasting cheese at the merchant. Take a ride in the horse-drawn carriage, ride the steam train out in the moor or be lured into the bakery with freshly baked bread and cakes.

See the turner, the cooper, the blacksmith or the rope maker at work as they used to 100-200 years ago.

The stone-age village is inhabited during the summer and life as it was 5000 years ago is shown here. Remember to visit the historical playground, where you can race on a penny-farthing bicycle and try a range of old games.
The admission is free for everyone under 18 years. You can also bring your dog on a leash.
For further information, opening hours, and prices please see our homepage.

---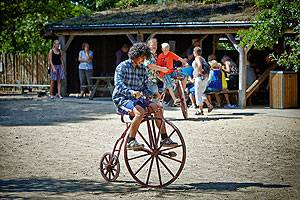 Frilandsmuseum Hjerl Hede
Hjerlhedevej 14
7830 Vinderup
Tlf: 96115030

Show on map
Copyright © 2003-2020 Sol og Strand Feriehusudlejning A/S