Bork Vikingehavn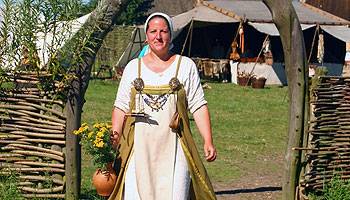 Experience the history of the Vikings - here you will find room for experiences and immersion
When you step through the gate of the Viking port, Bork Vikingehavn, you step back 1,000 years in time.
You can walk around among reconstructed longhouses and see, how the Vikings lived and worked with different handicrafts. Light a candle in the beautiful stave church or place a sacrifice in the sacrificial grove and see the hand-made tapestry "Bork Tapet".
If you visit Bork Vikingehavn, when the place is animated and living stories are being told, you will have an experience for all senses, and the children can try different activities.
In Bork Vikingehavn the children can try the Viking period on their own bodies. They can sail with small Viking ships in the moat, dress up as Vikings, play the games of the Vikings and try their strength at the Viking playground.
Activities in Bork Vikingehavn
You can experience more events during the spring and throughout the summer. In October, the Viking harbour is also inhabited with many Vikings, who entertain you with live history. Throughout the season Bork Vikingehavn offers daily tours in Geman and Danish, and one weekly tour in English.
You can bring your dog on a leash.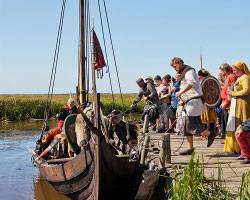 Bork Vikingehavn
Fjordvej 2 B
6893 Hemmet
Tlf: 75280597
www.levendehistorie.dk/forside-1

Show on map
Copyright © 2003-2020 Sol og Strand Feriehusudlejning A/S