Open-air museums, Denmark
Open-air museums cover stone age villages, viking villages and harbours, regional farms, old half-timbered houses as well as old town and village communities, which have been reerected or restored and by that appear like in former times. Here you can get acquainted with the peoples living condition during a certain epoch. In order to illustrate the life of the old town communities even better, the open-air museums are vitalized during the school holidays by persons, who are dressed in the old costumes and carry out crafts, agricultural and domestic work - exactly as in the old days. You are often invited to participate in the vitalization and grabble with the old crafts, cooking etc. You are able to see, smell and feel the atmosphere of the intense environment with people, animals, houses, workshops, shops and demonstrations of old work methods, and follow the course of life on a farm, where the work is carried out by means of the original tools - in the house, in the stable and on the fields.

Show on map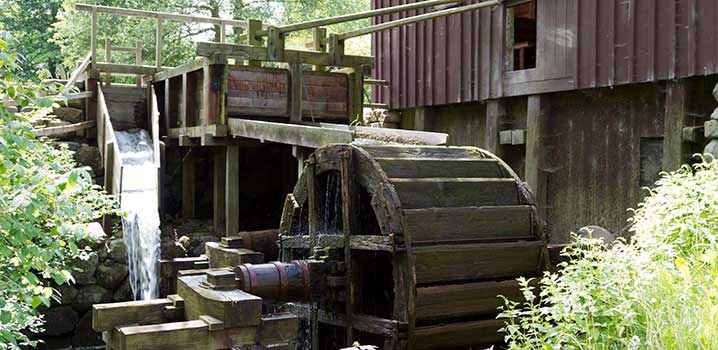 Andelslandsbyen Nyvang
In the open-air museum in Holbæk the past comes alive
Bangsbo Fort
Interesting and open military area near Frederikshavn
Boldrup Museum
Old smallholding from the year 1900 near Nørager/Hobro
Bork Vikingehavn
Interesting and vitalized viking museum in Bork
Bunkermuseet Hirtshals 10. Batteri
Complete installations from World War 2
Daugbjerg Minilandsby
Authentic village in a miniature scale near Viborg
Dejbjerg Jernalder
Experience life 2000 years ago and the ancestors of the Vikings
Den Fynske Landsby
In Odense you can experience a museum of rural buildings, showing a village environment from 1850
Den Gamle By
Den Gamle By (The Old Town) is a world-class sight and a lively open-air museum, which communicates the Danish history in three eras.
Fredericia Bymuseum
The history of Fredericia in beautiful half-timbered houses
Frilandsmuseet
Danish peasant culture throughout the last 200 years in Maribo
Frilandsmuseet, København
In the country - in the middle of the capital
Frilandsmuseet, Museum Midtjylland
Frilandsmuseum Hjerl Hede
The open-air museum in Vinderup is famous for its vitalizations and worth visiting year round
Glud Museum
Open-air museum near Horsens with a farm and workshops
Herregården Hessel
Interesting museum at an idyllically, half-timbered manor horse with thatched roof near Farsø
Hjortsvang Museum
Open-air museum near Tørring, dealing with life in the country throughout the last 200 years
Hvolris Jernalderlandsby
Experience an archaeological area with iron age life in Bjerregrav near Viborg
Hygum Hjemstavnsgård
Experience the course of the year with agriculture, handicraft and housekeeping near Herning
Jernalderlandsbyen
A reconstructed ancient environment with historic workshops in Odense
Lystbækgaard
Museum and cultural centre near Ulfborg
Melstedgård
Agricultural museum in Gudhjem with animals and demonstrations of old work methods
Middelaldercentret
Authentic settings from the 14th century with tradesmen, craftsmen, knight's jousts and everyday occupations in Nykøbing Falster
Moseløkken Stenbrudsmuseum
Quarry museum near Allinge
Sagnlandet Lejre
Interesting excursion spot with houses and reconstructed environments from the past
Skagen By- og Egnsmuseum
Come close to the life of the fisherman!
Stenaldercentret Ertebølle
The stone age centre offers activities, exhibitions and old kitchen middens among other things
Tadre Mølle
Experience the last watermill in the valley 'Tadre-dalen' near Hvalsø
Vestfyns Hjemstavnsgård
Open-air museum near Glamsbjerg with half-timbered houses from the 18th century
Vikingecenter Fyrkat
In Hobro you can experience a vitalization of an interesting era in the history of Denmark
Wellings Landsbymuseum
Learn about the past at the interesting museum near Lintrup
Copyright © 2003-2020 Sol og Strand Feriehusudlejning A/S