Råbjerg Mile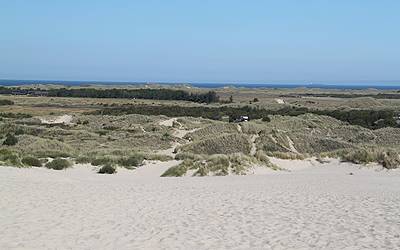 Southwest of Skagen you find the famous dune, Råbjerg Mile. Together with Den Tilsandede Kirke, a church buried in sand, and Grenen, the top of Denmark, this vast amount of sand is one of the most famous natural created sights in Denmark.
Some even say, that it is Denmark's answer to Sahara! Råbjerg Mile is definately a unique piece of landscape in Denmark.
The wind is carrying the sand along at a quiet, but even pace - in the most common wind direction from west to east - and therefore the sand mountain is called a drifting dune. During the years the stone plain, Råbjerg Stene, has been exposed as only the fine sands from Råbjerg Mile are being moved and the large stones stay behind.
Råbjerg Mile
Kandestederne
9990 Skagen
Tlf:
naturstyrelsen.dk/naturoplevelser/naturguider/raabjerg-mile/

Show on map
Copyright © 2003-2020 Sol og Strand Feriehusudlejning A/S