Nationalpark Skjoldungernes Land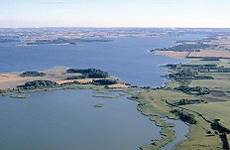 Experience the first national park on Zealand, Skjoldungernes Land, inaugurated by Crown Prince Frederik.
After more than 10 years' work, Zealand finally got its first national park, Skjoldungernes Land that was inaugurated on the 21st March 2015 by Crown Prince Frederik.
Skjoldungernes Land is close to Lejre, Roskilde and Frederikssund and comprises the fjord area at Roskilde Fjord, salt meadows, beautiful valleys, lakes and lagoons and the big state forests and previous crown forests at Bidstrup.
In Skjoldungernes Land you can feel the presence of history everywhere. The Lejre/Roskilde region is the cradle of Danish history. According to legends, the early Danish kings (the Skjoldunge lineage) resided at Lejre and later on, the empire of the Vikings was built from Roskilde. Roskilde cathedral, the most important building in Christian time, is on the UNESCO list of cultural legacy.
The landscape of Skjoldungelandet comprises various types of landscape and nature, such as the fjord landscape at Roskilde Fjord and the forest highland with the Bidstrup forests. Both areas are EU habitat areas. In Skjoldungelandet you also find castles and manors, e.g. Ledreborg Castle, Ryegaard Manor and Sonnerupgaard.
The area offers a host of options for experiences in the Roskilde and the Lejre area such as e.g. the Viking Museum, Roskilde Museum, the Lejre Historic-archaeological Research Centre and in particular Roskilde Cathedral.
There are also lots of possibilities of joining funny activities with the children out in the nature. You can go for a walk, e.g. to Midgaardsormen, which is a 'balancing path' in Boserup Forest, or you could take a walk around Avnsø, one of the cleanest lakes on Zealand, where you can also go for a swim. You can use the wooden pier, tables and benches, a swing and a fire ring. There are more good bathing beaches in the area, e.g. at Herslev, Vigen, Veddelev and Bramsnæs.
Furthermore, the natural play grounds are a possibility for activities for children and we could mention the natural playgrounds in the Bidstrup Forest and Storskoven at Hvalsø. In the winter, you can go sledging in the local hills.
---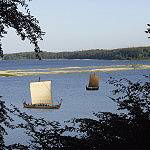 ---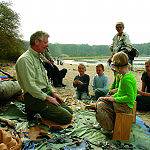 ---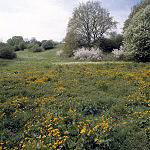 Nationalpark Skjoldungernes Land
Lejrevej 15
Allerslev
4320 Lejre
Tlf: 46 46 25 32

Show on map
Copyright © 2003-2020 Sol og Strand Feriehusudlejning A/S