Nationalpark Mols Bjerge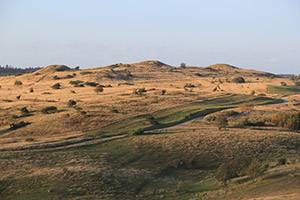 Hikes between crater-like kettle holes, where the ice blocks have melted through thousands of years. Expectant ascents on giant mounds, which today act like viewpoints with 360 degrees views. Bicycle routes through varying landscapes. Picnic in the grass between cows and in front of the 700 years old castle ruin Kalø Slotsruin.
Nationalpark Mols Bjerge is a living landscape, where people have communed with nature for thousands of years in a magnificent ice age landscape.
40 out of 200 nature types, worthy of preservation, called habitats, can be found in the national park. Especially the area Mols Bjerge is famous for its sunny pastures with many rare animal species, like e.g. the protected sand lizard, which usually thrives in the mountains. Mols Bjerge is also a hotspot for butterflies.
You will find a number of marked yellow-spotted routes. The most famous is Den Italienske Sti (the Italian path), which is named after its almost southern views with characteristic high cypress-like juniper. The cattle graze in large enclosures that you can enter, if a gate is available. The animals preserve nature by grazing here.
Jernhatten towards north-east offers a breathtaking ascent over a white beach. The path Gravlevstien is eight km long and follows a closed railway track in picturesque surroundings. Hestehave Skov and Ringelmose Skov are old forests with twisted beeches, a holy spring and view of Kalø Slotsruin.
During the school holidays national park guides are present in the landscape in order to help and inspire tourists, and the national park bus takes you on a sightseeing ride.
App for your trips
You can also bring your guide in your pocket!
The app "Nationalpark Mols Bjerge" for your mobile provides you with suggestions for your route in the national park - on foot, on bicycle, on horseback or behind the wheel. Every route is described with length and level of difficulty as well as experiences along the route. You will also find a quiz, a treasure hunt and options to earn points for medals as well as GPS tracking, in order for you to know precisely, where you are.
---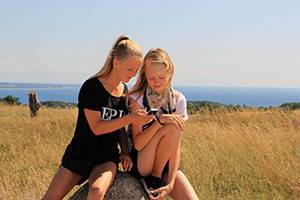 ---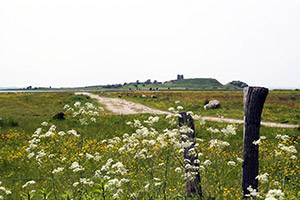 ---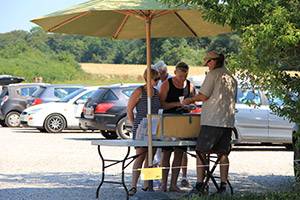 ---
Nationalpark Mols Bjerge
8400 Ebeltoft
Tlf: 91 32 95 56

Show on map
Copyright © 2003-2020 Sol og Strand Feriehusudlejning A/S