Geografisk Have
Geografisk Have is 12 hectare big garden, filled with many green experiences. It has a unique history that is almost 100 years old. In 2016, the garden was awarded with the "Award of Garden Excellence", and it was thereby selected as one of the 27 most beautiful gardens in Europe.
Geografisk Have is an exciting botanical collection of plants that have been planted according to originating country. During a visit to the garden you get to "travel around the world". You can visit China, Japan, North America as well as Europe. There are trees, bushes and herbaceous perennials that year-round offer great experiences. The gardens extensive collection of rhododendrons holds about 100 different species. They blossom from early spring to late summer. Many of them are very old, big and vigorous.
It was Aksel Olsen, founder of Geografisk Have, who came up with the idea of this special way to display the plants. He tested more than 6000 plants from around the world to see if they could thrive in our climate.
Geografisk Have has a big rose garden and a rosarium with historical roses. You can discover the thousands of roses and wild roses that were brought to Denmark by Aksel Olsen. Geografisk Have is cared for by some highly skiled gardeners. It also has a greenhouse, café and a pen with petting goats, horses, marmosets praire dogs, miniature pigs and many exciting bird species. There are also 2 playgrounds, a challenging jungle path, caves and bamboo groves for the children to discover.
Geografisk Have also contains Kolding Miniby, a reconstruction oft he center of Kolding in the years 1860-70 in the scale 1:10. During the 2017 season, you can use your "Be happy pass" and receive an extra advantage. There are a great deal of exciting events in Geografisk Have, so take a look at the calendar on Geografisk Have's own website. On June 5th (the Danish Constitution Day), there is a big plant market with attendance of more than 100 different stalls selling plants and other plant related items.
---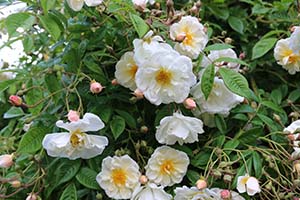 Geografisk Have
Christian IVs Vej 23
6000 Kolding
Tlf: 75503880

Show on map
Copyright © 2003-2020 Sol og Strand Feriehusudlejning A/S