Nature, Denmark
Denmarks lovely nature is very versatile, and you can experience large beech and pine forest, dune plantations, beautiful moor areas, which are coloured purple from heather during autumn, preserved nature areas, bird sanctuaries, where you can observe a number of interesting birds from gazeboes or shelters, drifting dunes, which move many metres every year, clay pits, where you can search for finds from the past, and lime pits with long galleries deep under ground, where you can see fossils and bats. Furthermore, the country is rich in recreational parks, palace gardens with ingenious plant and flower arrangements, botanical gardens, herb gardens with herbs and old medicinal plants, greenhouses as well as scenting and colourful flower and theme gardens, like f.x. rose gardens, Japanese and Chinese gardens. Along the shores you will find sights like spectacular cliffs, bird cliffs, rugged rocky coast, caves and deep gorges. Off the shore you can visit reefs and catch large fish.

Show on map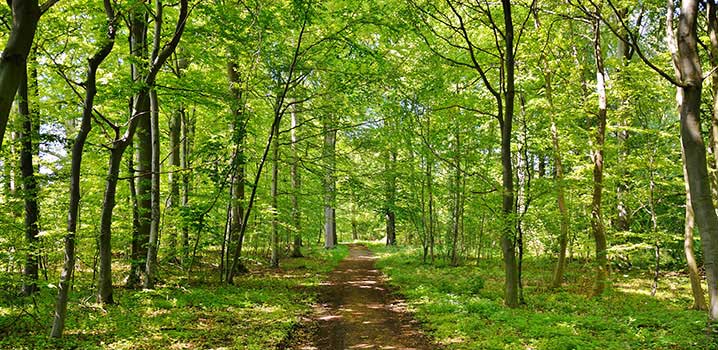 Almindingen
Almindingen, east of Rønne and north of Åkirkeby, is the third largest forest in Denmark
Anne Justs Have
A richly coloured garden by Blokhus
Bangsbo Botaniske Have
Visit the interesting, aromatic gardens and parks near Frederikshavn
Birkegårdens Haver
The gardens Birkegårdens Haver is an excursion point for the whole family.
Bjergsted Bakker
A hilly nature area near Kalundborg with an interesting flora and fauna
Blåbjerg-Nyminde Klitplantage
Experience the lovely nature of Nørre Nebel behind the North Sea
Botanisk Have og Museum
A live museum in the heart of Copenhagen
Botanisk Have, Århus
A beautiful garden by the open-air museum Den Gamle By
Brændegård Sø
Experience the rich bird life by the large lake near Faaborg
Bulbjerg
Experience Denmark's only bird cliff near Frøstrup
Bunken Klitplantage
Peaceful and scenic dune plantation by Skagen in the northernmost part of Denmark
Byhaven, Rudkøbing
Visit a cosy and historical garden in the centre of Rudkøbing
Bøjden Nor
The cove near Faaborg is an ideal excursion spot for bird enthusiasts
Bøtø Nor
A paradise for bird enthusiasts near Gedser
Christiansø
Scheduled fortress island in the Baltic with a rich birdlife
Corselitze
Large forest area near Nykøbing Falster
Den Økologiske Have
Ecological visitor garden in Odder - the largest of its kind in Scandinavia
Det Gule Rev
First-class deep-sea fishing in the waters off Hanstholm
Dyrehaven Bangsbo
Recreational area near Frederikshavn
Dyrehaven, Haderslev
Hilly nature park with animals from Denmark
Ellekrattet
A paradise for bird enthusiasts near the tip of Denmark
Erholm Park
Palace garden from the 1820'ies in Aarup on the western part of Funen
Fanø Klitplantage
Varying nature area in the centre of the island
Folkeparken
Scenic park in Hirtshals
Fosdalen
Unique nature area near Tranum
Fredensborg Slotshave
The garden of the crown prince and princess
Frederiksdal Naturcenter
Recreation near beach, in a forest or in a cosy park
Fuchsiahaven i Uhre
Hundreds of different sorts of fuchsia
Geografisk Have
The garden Geografisk Have in Kolding is an oasis with a miniature town, plants and animals
Gram Lergrav
Go fossil hunting in the clay pit Gram Lergrav
Grenen
Danmark's northernmost point
Gråsten Slotshave
The beautiful English landscape garden offers experiences for all senses
Hedeland Naturpark
Artificially landscaped nature area near Hedehusene with space for numerous leisure activities
Helligdomsklipperne
The cliffs Helligdomsklipperne are located between Gudhjem and Allinge
Ho Klitplantage
Go on a lovely excursion in the interesting dune plantation
Hovvig
Wetlands and bird sanctuary near Nykøbing Sj
Højby Sø
Idyllic lake with a small exhibition about the development of the pond
Højsandet
Inland dune between Rørvig and Dybesø
Klosterheden
Denmark's largest plantation is situated near Struer
Kongenshus Mindepark
Denmark's large moor area is situated near Viborg
Kongsøre Skov
Green oasis by the inlet Isefjorden
Korshage
Much-coveted area for observation of migratory birds near Rørvig
Krogsande-Boldbjerge
Moor and old, overgrown dunes near Blåvand
Købelevhaven
Botanic garden with a Japanese park in Nakskov
Laubjergs Rosenhave
The large rose garden in Ringkøbing consists of 9 fragrant garden sections
Lille Malunds Have
Versatile garden in Klovborg near Horsens and Vejle
Lille Vildmose og Vildmosecentret
1,000-years old bog in northern Jutland
Lilleheden Klitplantage
Aromatic dune plantation near Hirtshals
Lystanlægget ved Baldersbæk
Nature, cultural history, art and sculptures in the park Lystanlægget near Baldersbæk
Lystrup Skov
A hilly and highly situated forest by Slangerup
Malolorca
Mallorca in Denmark!
Marbæk
Nature park near Esbjerg with numerous walking and bicycle paths
Marielundskoven
This scenic forest with many walking and bicycle paths is situated in Kolding
Medicinhaverne i Tranekær
Visit a number of gardens with plants, which all have a beneficial effect on humans
Møns Klint
Møns Klint - a spectacular corner of Denmark
Nationalpark Mols Bjerge
Marvellous conservation area with a varying landscape
Nationalpark Skjoldungernes Land
The Nationalpark "Skjoldungernes Land"
Nationalpark Thy
Spectacular nature in Nationalpark Thy
Naturpark Maribosøerne
Unique nature area in the centre of Lolland
Nekselø
Experience the small, preserved and scenic island Nekselø opposite western Sealand
Nørre Sø
Take a beautiful walk around the lake in Faaborg
Nørreskoven
Narrow forest area in Esbjerg
Pamhule Skov
The fertile forest Pamhule Skov near Haderslev is the largest forest of the area
Paradisbakkerne
Visit this greatly undulating cliff landscape near Nexø
Paradishaven
Wonderful garden with thousands of flowers, trees and bushes.
Peter Hansens Have
Interesting plant types from the whole world in Nakskov
Pikkerbakken Bangsbo
High inland incline by Frederikshavn
Planetstien
Experience our solar system - in a miniature scale - in Lemvig
Rold Skov - Rebild Bakker
Beautiful national park near Skørping
Råbjerg Mile
The giant drifting dune near Skagen moves op to 15 m every year
Skagen Klitplantage
Varying dune plantation between two seas
Skallingen
A preserved peninsular in the bay Ho Bugt near Blåvand
Skjern Å
This stream, Denmark's most abounding in water, offers unique nature experiences
Sollerup Skov
Varying forest with numerous excursion opportunities near Faaborg
Stejlbjerganlægget
A beautiful view of Kolding and the former royal castle Koldinghus
Stevns Klint
65 million years old chalk cliff - 28 km from Køge
Svanelunden
One of the largest parks in Hjørring
Svanninge Bakker
The Alps of Funen are located near Faarborg
Tambours Have
Idyllic garden ground near Varde with plants from the whole world
Tipperne
Experience the bird life and the lovely nature on Tipperne by Ringkøbing Fjord
Tornby Klitplantage
Enjoy a walk in the lovely dune area near Hirtshals
Trebjerg
Near Faaborg you will find the third highest point on Funen
Tunneldalstierne
Experience this scenic landscape near Haderslev along the small roads or paths - on food or bicycle
Ulfborg Plantage
Lovely forest near Ringkøbing with a rich birdlife
Ulkerup Skov
The forest Ulkerup Skov near Nykøbing Sj is one of the five oldest forests of the district Odsherred
Vandværksskoven Bangsbo
A forest near Frederikshavn with many excursion spots
Vejlerne
Northern Europe's largest bird sanctuary by the Liim Fiord
Vendsyssels Plantage
A green oasis in Løkken
Vesterlyng
Scented nature area on Western Sealand with 2 large and drifting dunes
Vilsted Sø
Recreational wetlands near Ranum with abundant vegetation and a rich animal and bird life
Vognsbølparken
A green oasis in the centre of Esbjerg
Østerild Klitplantage
Beautiful recreational area - 15 km from Hanstholm
Ålbæk Klitplantage
Dune plantation with oak trees and different types of coniferous trees
Copyright © 2003-2020 Sol og Strand Feriehusudlejning A/S