Kunsten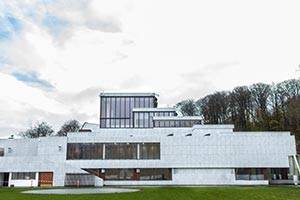 Kunsten Museum of Modern Art Aalborg

Kunsten Museum of Modern Art in Aalborg
No matter if you have great or no interest in art, you will have a big experience at Kunsten – here you will find interesting things for both children and adults.
At Kunsten the children can take part in e.g. picture hunts and art expeditions, where they can go exploring in the works of the museum. The workshop next to Café Aalto is the creative room of Kunsten, which is open year round for children and the young at heart.
The big bright rooms of the museum create a fantastic frame of Kunsten – also on a rainy summer day. The museum building, which was built in 1972, is an attraction in itself. It has been designed by the world-famous architect Alvar Aalto as well as Elissa Aalto and Jean-Jacques Baruël, and this is the only museum building outside Finland, which has been designed by Aalto. The museum is built in white marble. Inside the style continues with beautiful marble floors and copper lamps, which are also designed by Aalto.
In January 2016 Kunsten re-opened after 18 months of thorough renovation. The renovation has been accomplished with respect for the building, which is listed. The extensive renovation has among other things resulted in a new exhibition hall, new education rooms, a new café and a shop, a totally restored sculpture park with a large terrace as well as replacement of 317 tons of Italian marble – inside and outside.
In Café Aalto you can enjoy a glass of wine, a lunch or coffee and cake. In the weekends the museum also serves brunch until 2 p.m.
---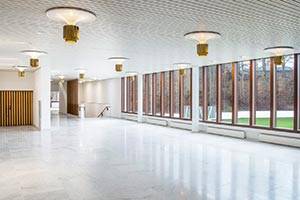 Kunsten
Kong Christians Alle 50
9000 Aalborg
Tlf: 99 82 41 00
Copyright © 2003-2017 Sol og Strand Feriehusudlejning A/S