Bornholms Kunstmuseum
---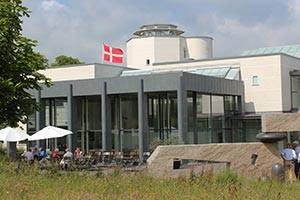 Bornholms Kunstmuseum er en oplevelse for alle aldre!
Bornholms Kunstmuseum is an experience for all ages!
See our beautiful, modern architecture with a fantastic inflow of light, indoor fountain, outdoor footbridge, tower, and an impressive amount of art.
Enjoy a lovely lunch or a good cup of coffee at the café, buy postcards, books, and art work at the museum shop. Let the kids have fun at the children's corner or take a walk to the dramatic Helligdomsklippe and into the grotto "Den sorte gryde" - "The Black Cauldron"!
Bornholms Kunstmuseum's permanent collection consists of art and art work with affiliation to Bornholm. The visual art of the collection ranges timely from the start of the 19th century and up until today with emphasis on the 'Bornholmermalerne" – a group of artists, who worked at the island at the first half of the 20th century. The museums works by the Bornholmermalerne gives a comprehensive impression of the breakthrough of modernity. But also the older as well as the newer parts of the collection with both paintings and sculptures provide a rich and faceted picture of the art-life on Bornholm.
Every year Bornholms Kunstmuseum houses 6-8 special exhibitions of art and art work, all relating to Bornholm in one way or another. Most of the collections are developed in collaboration with ither art museums, Danish as well as international.
Read more about the museum, events and current special exhibitions on our homepage.
---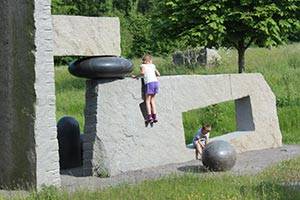 ---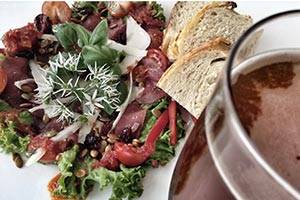 Bornholms Kunstmuseum
Helligdommen
Rø
3760 Gudhjem
Tlf: 56 48 43 86

Show on map
Copyright © 2003-2020 Sol og Strand Feriehusudlejning A/S