Museums, Denmark
Denmark offers all kinds of museums, right from international museums with impressive exhibitions and art museums with works of world-famed artists to national museums, natural history museums, small and regional museums with old objects from the local area as well as museums with finds from the antiquity. You will also find museums with themes like f.x. viking ships, fossils, vehicles, tools, toys, photographs, clothes, coins and amber as well as museums with exhibitions, covering shipping, railways, life-saving service, agriculture, fishing, military history and archaeology. Furthermore, you can experience interesting museums, established in the name of a Danish artist in his/her old home. The works of the artist are exhibited here, and you can see the surroundings, in which they were created. Most provincial towns have their own museum, which informs of the town's history. Some museums are established in submarines, frigates, castles, hospitals, water towers and mills.

Show on map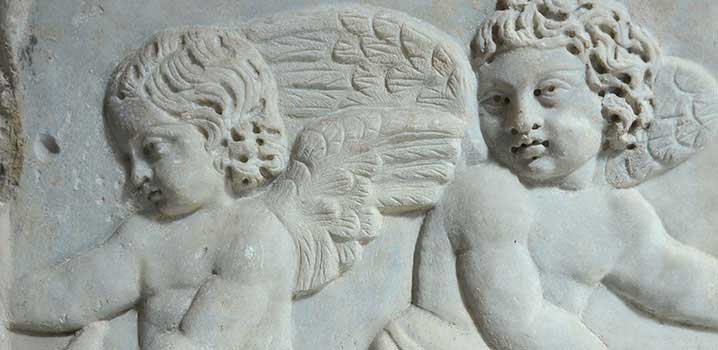 Abelines Gaard
Old wreck master farm from 1871 in Hvide Sande - today an interesting regional museum
Abildå Brunkulsleje
A live museum in the old brown coal fields nearby Herning
Amagermuseet
A live museum in two farms with thatched roofs in Dragør
Amalienborg
Experience royal life past and present
Anchers Hus
An interesting artists' home in Skagen with paintings and furniture
Anne Hvides Gård
Svendborg's oldest building in private possession
Apotekersamlingen Jens Bang Stenhus
Unique collection of furniture, instruments, receptacles and documents in Aalborg
Arbejdermuseet
The everyday life of the workers - today and 150 years ago - in Copenhagen
Arken
The museum of modern art in Ishøj
ARoS
Discover world-class art at ARoS
Arresten i Faaborg
Denmark's first prison museum
Artillerimuseet i Varde
A special museum for the artillery in Denmark
Ballerup Museum
Lean more about village life in Pederstrup the history of Ballerup
Bangsbo Museum
Small and charming manor house near Frederikshavn
Besættelsesmuseet
The museum in Århus illustrates Central Jutland during the occupation
Bindeballe Station
Cosy railway museum
Blichermuseet
Acquaint yourselves with the writer Steen Steensen Blichers on the beautiful manor house Herningsholm in Herning
Bogtrykmuseet
A collection of local history with machines, tools and lead types in Esbjerg
Bornholms Automobilmuseum
Unique collection in Aakirkeby
Bornholms Kunstmuseum
The art gallery is situated near Gudhjem - in one of the most scenic areas of Bornholm
Bornholms Tekniske Samling S/I
Brandmuseet
A museum of local history in Nykøbing F with the life-saving service as the main subject
Brandts
A culture centre with art, photos and medias in Odense
Brede Værk
A well-preserved industrial plant from the time of production in Kongens Lyngby
Broholm Gods
Experience the old manor house in Gudme with an ancient collection and a beautiful palace garden
Bunkermuseet ved Bulbjerg
Small museum bunker by Denmark's only bird cliff near Frøstrup
Bunkermuseum Hanstholm
Northern Europe's largest fortress with bunker and exhibition
Bymuseet Møntergården
Interesting and varying exhibitions in a beautiful old building in Odense
Børglum Kloster
A beautiful, old convent near Vrå with atmosphere, exhibitions and a church
Bøtø Nor Pumpestation
The story of a pumping station near Væggerløse on Falster
Carl Nielsen Museet
A museum in Odense in the honour of the composer Carl Nielsen
Carl Nielsens Barndomshjem
An interesting museum in Årslev in the great composers childhood home
Carl-Henning Pedersen og Else Alfelts Museum
Interesting and very untraditionally decorated museum in Herning
Cathrinesminde Teglværk
The only brickworks museum in Denmark is located in Broager
Cirkusmuseet i Rold
Circus history in an old circus building
Cirkusmuseet, Hvidovre
Northern Europe's largest museum for circus and artistry
CLAY keramikmuseum Danmark
See Scandinavia's only special museum for international ceramic contemporary art and handicraft in Middelfart
Danmarks Flymuseum
Experience a part of the Danish cultural heritage on the 'vitalized' flight-historical museum in Skjern
Danmarks Fotomuseum
Learn more about the camera and its development since 1839 in Herning
Danmarks Golf Museum
In Vejle you will find golf history, interesting golf effects and the history behind these
Danmarks Industrimuseum
The museum for the culture of workers and craftsmen as well as the industrial culture in Horsens
Danmarks Jernbanemuseum
Great experiences for the whole family
Danmarks Museum for Lystsejlads
The museum in Svendborg presents boats, yachting effects and Danish water sports through the years
Danmarks Sukkermuseum
The museum in Nakskov teach you about Danish sugar production
Dansk Plakatmuseum
A culture-historical museum in Åbyhøj with posters from all over the world
Dansk Sygeplejehistorisk Museum
Experience the sickbed of former times on the scenically situated museum near Kolding
Den Gamle Købmandshandel
A general store in Nykøbing F - as it appeared in former times.
Den Kgl. Afstøbningssamling
World art in gypsum - in Copenhagen
Den Sorte Diamant - Det Kongelige Bibliotek
2 interesting museums in a special building in Copenhagen
Det Gamle Apotek
Interesting old pharmacy in Rudkøbing
Det Gamle Rådhus, Ribe
Ghastly museum in the old town hall in Ribe
Det Gamle Trykkeri
Working graphic museum in Nakskov
Det Nationalhistoriske Museum
Museum of National History on the castle Frederiksborg Slot in Hillerød
Det Sorte Geomuseum
The museum in Gedser exhibits geological finds from the southern part of Falster
Deutsches Museum Nordschleswig
An interesting museum in Sønderborg with the German minority as the main subject
DieselHouse
The history of the diesel engine - in Copenhagen
Digteren Emil Aarestrups Hus
Visit the restored house of Aarestrup in Nysted on Lolland
Dit Museum Ølgod
From poor moorland peasant to democratic farmer
Djurslands Jernbanemuseum
All about the railway traffic and public transport in Ryomgård in former times
Drachmanns Hus
Museum for the poet and painter Holger Drachmann in Skagen
Dragør Museum
Shipping museum with sea view
Dronninglund Kunstcenter
Interesting building with varying exhibitions
Drøhses Hus
One of the most beautiful baroque citizen's houses in Tønder
Dueholm Kloster
The former monastery today function as the national museum of Morsland
Dybbøl Mølle
The beautiful mill 'Dybbøl Mølle' in Sønderborg is both a museum and a national symbol
Egeskov Slot
Egeskov Slot - The Living Castle on Funen
Egeskov Veteranmuseum
Two interesting and historical museums at the castle 'Egeskov Slot' in Kværndrup
Egnsmuseet
Regional museum in Vandel near Vejle
Egnsmuseet Jacob Michelsens Gård
A regional historical museum with interesting collections in Aabenraa
Ehlers Samlingen
In Haderslev you can see a large collection of pottery
Empiregården, Stege
Interesting objects from the past and the present
Erichsens Gård
The town and garden museum of Bornholm is situated in Rønne
Ernst's Samlinger
The collection of the silverware manufacturer Ernst is located in Assens
Esbjerg Kunstmuseum
Danish pictorial art and sculptures from 1920 and up till today
Esbjerg Museum
Exhibitions with the themes: amber, town and antiquity
Fahl Kro
Cosy inn with interesting exhibitions near Hemmet and the inlet Ringkøbing Fjord
Falsters Minder Nykøbing
Culture-historical and archaeological regional museum in Nykøbing F
Fanø Flisesamling
The beautifully decorated wall tiles are characteristic for Fanø
Fanø Kunstmuseum
Paintings of the Jutland Wadden Sea island throughout the times
Fanø Museum
An interesting collection in a historical house
Fanø Skibsfarts- og Dragtsamling
Ships and garments
Farvergården
Beautiful merchant's house from 1630 in Kerteminde
Ferskvandsmuseet
Fresh water museum in Ry with themes like geology, nature and culture-history
Filosofgangen
The Funen exhibition building for art and design in Odense
Fiskerhuset i Agger
Fishing house from 1749 - 39 km from Thisted
Fiskeri- og Søfartsmuseet - Saltvandsakvariet
Experiences for the whole family. Interesting exhibitions, plenty of activities and terrific opportunities for inquisitive guests.
Fiskeriets Hus
The museum in Hvide Sande contains fish from the bottom of Ringkøbing Fjord, the adjoining rivers and the North Sea
Fjerritslev Bryggeri- og Egnsmuseum
Northern Europe's best preserved rural brewery
Flaske-Peters Samling
The world's oldest collection of bottle ships in Ærøskøbing
Flyvholm Redningsstation
The story of Lemvig life saving station and strandings in the area
Forsorgsmuseet
Sociohistorical museum in Svendborg
Fredensborg Lokalhistoriske Museum
Interesting museum of local history in an old school - 30 km north of Copenhagen
Frederikshavn Kunstmuseum
Paper art and libris in the international class
Frederikssund Museum
Culture-historical regional museum, covering Jægerspris, Frederikssund and Skibby
Fregatten Peder Skram
Ship from 1908 - used in the Danish navy
Frihedsmuseet
The Resistance versus the occupying power
Frilandsmuseet Herning
A museum for moorland cultivation in central and western Jutland
Frøslevlejren
Interesting museum in a former prison camp near Padborg
Fuglsang Kunstmuseum
Experience Danish art from the end of the 18th century and down till today in Maribo
Fur Fossiler
Fur Museum is an interesting experience for both children and adults
Fyns Kunstmuseum
Museum for Danish art in Odense
Fyns Militærhistoriske Samling
Interesting and historic military museum in Odense
Fyrhistorisk Museum på Nakkehoved
Lighthouse museum in Gilleleje, located in a unique culture landscape
Faaborg Miniby
Faaborg from before 1900 in the scale 1:10
Faaborg Museum
Paintings, sculptures and an idyllic museum gardens
Gasmuseet
The rest of the characteristic gasworks buildings at the harbour in Hobro are newly renovated
Gedser Remise
Railway museum in Gedser
Genforenings- og Grænsemuseet
Museum in Christiansfeld - everything regarding the Danish border and the reunion
Geomuseum Faxe
Fossils from the past in Faxe
Give-Egnens Museum
COME CLOSE TO THE PAST!
Gl. Estrup - Dansk Landbrugsmuseum
The manor house Gl. Estrup near Auning houses a national, agricultural museum
Glasmuseet Ebeltoft
Glasmuseet Ebeltoft contains a very acknowledged collection of modern and international glass art
Glyptoteket
Collection of sculptures in Copenhagen, founded by the brewery Carlsberg
Grenen Kunstmuseum
Paintings by the Skagen painter Axel Lind and many others
Greve Museum
Regional museum, close to Copenhagen
Gråbrødrekloster Museet
Underground museum in the mediaeval town Aalborg
Gærup Skolemuseum
School museum from 1784 - 10 km from Faaborg
Gæsteatelier Hollufgård
Interesting workshop and studio by the manor house Hollufgård in Odense
Gåsemandens Gård
Moorland farm from 1789 in Hemmet
H.C. Andersens Barndomshjem
A museum has been established in the small childhood home of H.C. Andersen in Odense
H.C. Andersens Hus
The wonderful biography of H. C. Andersen is told in the poet's former home in Odense
Hadsund Egnssamling
Historic regional museum with varying exhibitions
Hammerichs Hus
One of the best-preserved half-timbered houses from the 18th century in Ærøskøbing
Handels- og Søfartsmuseet
Shipping museum at the castle Kronborg Slot in Helsingør
Hannes Hus
Interesting regional museum in an old 'skipper house' on Fanø
Hanstholm Kunstbygning - Nordatlantens Hus
Art by 'the end of the world'
Harmonikamuseet
Denmark's largest collection of old and functional accordions near Brovst
Harteværket
Denmark's first larger hydroelectric plant near Kolding
Hasle Røgeri
Experience a genuine Bornholm smokehouse in Hasle
Hattemagerhuset
200-years old hatter house in Tarm
Havnbjerg Mølle
Idyllically situated Dutch mill near Nordborg on Als
HEART
Architecture and art of international format at HEART in Herning
Hedvigs Hus
Very rare seaweed house on the island Læsø
Helsingør Bymuseum
Visit many interesting exhibitions
Heltborg Museum
Museum with art and collections as well as a genuine iron age farm in Hurup Thy
Hempel Glasmuseum
The interesting collections are very scenically situated in Nykøbing Sj by the inlet 'Isefjord'
Henner Friisers Hus
Museum in a citizen's house in Middelfart
Herregården Odden
A Willumsen collection, owned by Victor Petersen, at the manor house Odden
Herregårdsmuseet Sæbygaard
Dinner sets, East Indian porcelain from the 18th century as well as pewter ware from the end of the 17th century in Sæby near Frederikshavn
Historiecenter Dybbøl Banke
Experience and information centre in Sønderborg with the war in 1864 as subject
Hjedding Andelsmejeri
Experience an old dairy museum in Ølgod
Hjemstavnshus Arnborg
Interesting nature centre and native museum near Herning
Hjorths Fabrik
Experience the pottery museum of Bornholm in Rønne
Hobro Museum
A journey into local history throughout the times
Hodde Gamle Skole
Denmark's school history at a cosy, little museum
Holbæk Museum
A cultural-historical museum with varying exhibitions
Holstebro Kunstmuseum
Experience world art at the art museum 'Holstebro Kunstmuseum'
Holstebro Museum
Museum of local history with interesting collections and amusing activities
Horsens Kunstmuseum
Contemporary art with the main stress laid on the 1980'ies
Horsens Museum
Innumerable permanent exhibitions as well as special exhibitions with Horsens as the focal point
Højer Mølle- og Marskmuseum
Dutch mill from 1857 with a museum
Høkeren
Museum shop in Kerteminde
Hørvævsmuseet på Krengerup
Weaving museum in Glamsbjerg
Håndværkernes Hus, Hjørring
Experience the old trade traditions!
Håndværksmuseet, Roskilde
Old crafts traditions and tools
Isbådsmuseet på Halsskov Rev
The story of the iceboat
J. C. Christensen´s Hus
The house of the politician J. C. Christensen in Ringkøbing
J. F. Willumsen Samling
Works of the versatile artist J. F. Willumsen in Hjørring
JANUS Vestjyllands Kunstmuseum
Western Jutland art near Varde
Jenle - Nanna og Jeppe Aakjærs hjem
Visit the home of the writer Jeppe Aakjær - just north of Skive
Jens Søndergaards Museum
Visit the museum of the painter Jens Søndergaard in Lemvig!
Johannes Larsen Museet
Discover the changing exhibits in Alhed and Johannes Larsens artistic home
Jysk Automobilmuseum
In Gjern near Silkeborg you will find an impressive collection of 160 restored vintage vehicles
Kaj Jensens Autografmuseum
Autographs from all sorts of famous personalities near Vildbjerg
Karen Blixen Museet
Visit the interesting Karen Blixen musuem in Rungsted
Kirsten Kjær´s Museum
Art centre in Frøstrup with works of Kirsten Kjær and other house artists
Klosterlund Museum og Naturcenter
Interesting exhibition about the stone age - 22 km from Silkeborg
Knud Rasmussens Hus
The house of the polar explorer and national hero Knud Rasmussen
Kolding Miniby
See the houses and visit the workshop in Kolding Miniby
Koldinghus
The town Kolding surrounds the formerly disputed castle
Koldkrigsmuseum Langelandsfort
Come close to the cold war at the fort Langelandsfortet
Koldkrigsmuseum Stevnsfort
One of Denmark's secret places in Rødvig
Kongernes Jelling
A historic experience
Korsør By- og Overfartsmuseum
Native museum in the fortress Korsør Fæstning
Kragerup Go High
Kragerup Go High climbing park
Krudtværket
Have an insight into the story about the potentially lethal production of gunpowder - in Frederikshavn
Krydsfelt Skive
Culture-historical collections
Kulturhistorie Aabenraa
Aabenraa Museum is the shipping museum of South Jutland
Kulturhistorisk Museum
The history of Bornholm throughout thousands of years in Rønne
Kulturmuseet Spinderihallerne
Culture-historical museum with fantastic stories about Vejle
Kunstbygningen SAK
Experience all facets of the art in Svendborg
KunstCentret Silkeborg Bad
At the Art Centre Silkeborg Bad nature, art and fine buildings form a beautiful synthesis
Kunsten
KUNSTEN in Aalborg is a museum for modern and contemporary art
Kunstmuseet Brundlund Slot
Special exhibitions and selected works from the art collection of the museum in Aabenraa
Kunstmuseet Tønder
Formerly a stronghold, later a Renaissance castle - today a museum
Kvindemuseet i Danmark
This museum in Århus deals with the life and activities of women during the modern times of Danish culture history
Kystfiskerimuseet
The museum of shore fishing is established in an old rescue house in Løkken
Københavns Museum
Become acquainted with the past and the present
Købmandsmuseet Cornelen
Old grocery shop from the 1930'ies in Farum
Køge Museum
Culture history from the town Køge
Køng Museer
Old textile factory - 16 km south of Næstved
KØS Museum
KØS museum for art in public places
Landbomuseet Kolding
A countryman museum of a private collector
Landbomuseet Lundekrog
Agricultural tools, domestic appliances and old handicraft from 1840-1950 in Lille Skensved
Langelands Museum
Interesting exhibition objects from the antiquity and down to present time - in Rudkøbing
Laugø Smedje
An old forge as a museum near Helsinge
Lejre Museum
The history, landscape and national significance of the area Gl. Lejre
Lemvig Museum
Cosy and distinguished regional museum
Lille Mølle
Dutch windmill from 1783 in Copenhagen
Lillebæltsværftet
Boatbuilding yard in the old harbour of Middelfart
Lilleskov Teglværk
Old brickfield in Tommerup with a museum and a culture centre
Limfjordsmuseet
Limfjordsmuseet is a maritime museum, which offers an abundance of experiences for the whole family
Lindholm Høje Museum
Interesting museum in Nørresundby with finds from the ajoining burial place
Lolland-Falsters Stiftsmuseum
Culture-historical museum in Maribo, concerning Lolland and Falster from the antiquity to the present
Lorenzens butik
Exhibition on Fanø with lovely old costumes
LOUISIANA Museum of Modern Art
Interesting museum in Humlebæk with contemporary art
Lystfartøjsmuseet
Learn more about the history of the sailing-boat in Hobro
Løkken Museum
Learn more about the old fishing hamlet Løkken in buildings of historic value
Mands Samling
Experience an ancient collection, tools, carriages and much more in Assens
Mariager Museum
Interesting museum, which informs of the past in Mariager
Marstal Søfartsmuseum
Experience the history of the shipping and the fishery in a former ship chandler's
Martin Andersen Nexøs barndomshjem
The house of the writer Martin Andersen Nexø in Nexø
Memphis Mansion
Event house in Randers with Elvis in the centre!
Middelfart Museum
Different interesting exhibitions about Middelfart
Modelbane Europa
You will find one of Europe's largest computer-controlled model railways in Hadsten
Moesgaard Museum
Experience an unusual museum with interesting antiquity exhibitions near Aarhus
Moler Museet
Collection of fossils from the moler in Nykøbing M
Morsø Traktormuseum
Experience Denmark's oldest tractor museum in Nykøbing M
Mosbjerg Museum
Agricultural exhibition and an old, at times active smallholding near Sindal
Mosegaarden
Museum of local history in Værløse
Motorfyrskibet Horns Rev
The world's largest pinewood ship in Esbjerg
Motorjagten Mjølner
Museum ship from Rudkøbing
MS Museet for Søfart
The history of shipping comes to life
Museet Danmarks Brandbiler
Fire engines in museum
Museet Den Gamle Gaard
2 old merchant's houses with many sights near Faaborg
Museet for Religiøs Kunst
Museet for Religiøs Kunst focuses on relation between art and religion in the 20th and 21st century
Museet for Samtidskunst
Interesting museum with intermedial art from 1950 and upwards in Roskilde
Museet på Gl. Rye Mølle
Museum in an interesting mill from the year 1872
Museet på Sønderskov
Interesting regional museum with a belonging park in Brørup
Museet Ribes Vikinger
Genuine finds from the viking period and the Middle Ages in Ribe
Museet Sønderborg Sygehus
Established as a former German field hospital
Museum Jorn
Interesting art collections and varying exhibitions in scenic surroundings
Museum Oldemorstoft
Agricultural museum of local history in Bov
Museum Silkeborg, Blicheregnen
Interesting museum in Central Jutland with focus on Blicher.
Museum Silkeborg, Hovedgården
Meet the world-renowned man Tollundmanden
Museum Silkeborg, Papirmuseet
See how paper was produced in the old days.
Museum Sønderjylland - Arkæologi Haderslev
The museum displays archaeology, town history and an open-air section
Museum Sønderjylland - Kulturhistorie Tønder
Silver, furniture, laces and Dutch tiles from the wealth period of Tønder.
Museum Sønderjylland - Naturhistorie og Palæontologi, Gram Lergrav
An interesting museum in Gram, where you can dig into the past
Museum Østjylland, Det gamle Rådhus
Town hall with a dungeon in Ebeltoft
Museum Østjylland, Ebeltoft
Regional museum at the old town hall
Museum Østjylland, Farvergården
Dye works from the 18th century
Museum Østjylland, Grenaa
Interesting culture-historical exhibition in Grenaa
Museum Østjylland, Håndværksmuseet
Culture-historical museum with active workshops in Randers
Museum Østjylland, Randers
A culture-historical journey from the antiquity till today
Museum Østjylland, Siamesisk Samling
Unique collection from the old Thailand in Ebeltoft
Museumsgården
Old four-winged seaweed farm from the middle of the 17th century on the island Læsø
Museumsgården, Stege
The development of the agriculture from the year 1800 to the 1930'ies
Musikmuseet
Visit one of the world's oldest music-historical museums in Frederiksberg
Møllehistorisk Samling
From cog wheel to digital media
Mølsteds Museum
Paintings by Chr. Mølsted in the heart of Dragør
Nakskov Brandmuseum
Cosy museum with fire equipment in Nakskov.
Nakskov Skibs- og Søfartsmuseum
Everything regarding ships, shipbuilding industry and navigation
Nationalmuseet
The palace Prinsens Palæ - the main building of Denmark's national, culture-historical museum in Copenhagen
Nationalmuseets Kommandørgård
Experience a genuine Rømø farm from the 18th. century
Naturhistorisk Museum, Skagen
In dialogue with nature
Naturhistorisk Museum, Aarhus
At the museum in Århus you can acquaint yourselves with the Danish development of natural history
Nexø Museum
Museum in the oldest building in town
Nivaagaards Malerisamling
Rembrandt and Bellini - in a Danish art collection in Nivå
Nordfyns Museum
Regional museum, covering Bogense and the northern part of Funen
Nordjysk Spejdermuseum
About the 'Danish Scout Association' in North Jutland - in Aalborg
Nymindegab Museum
Exciting exhibition in Nørre Nebel
Nymindegab Redningsbådsmuseum
How lives were saved in former times
Næstved Museum
This museum deals with the regional development as well as handicraft from different periods
Odder Museum
Learn more about the history of Odder
Odsherreds Kulturhistoriske Museum
The culture history of the area Odsherred is illustrated here
Odsherreds Kunstmuseum
The museum in Asnæs displays landscape paintings and illustrates their development
Odsherreds Trafikmuseum
Local post and traffic history - 13 km from Havnsø
Oluf Høst Museet
The life of the artist is carried on at the museum, which is established in his former home in Gudhjem
Orlogsmuseet
Museum in Copenhagen about the Danish navy
Palæsamlingerne
Interesting collection at Roskilde Museum
Pansermuseet i Oksbøl
Experience combat and military vehicles, uniforms and weapons at the armour museum Pansermuseet in Oksbøl.
Polakkasernen
Museum about the Polish migrant workers in Rødby
Psykiatrisk Samling
Psykiatrisk Samling is the former mental hospital in Middelfart from the years 1888-1999
Ramløse Mølle
Dutch mill from 1908 - 6 km from Helsinge
Randbøldal-Museet
Old factory - 11 km eastward of Billund
Randers Kunstmuseum
The 1,500 square metres large museum is situated in the culture house in the centre of Randers
Reersø Amerikanerbilmuseum
Reventlow-Museet Pederstrup
Museum at the manor house Pederstrup in Horslunde on Lolland
Ribe Domkirke Museum
Ribe Domkirke – before, during and after the Reformation
Ribe Kunstmuseum
Danish art from the period 1750-1950
Ringe Museum
Culture-historical regional museum in the first school of Ringe
Ringkøbing Museum
Experience interesting collections and many rare objects
Ringsted Museum
Regional history and milling
Ringsted Radiomuseum
A unique collection of radio sets
Rosenborg Slot
THome of royal crowns and the crown jewels in the centre of Copenhagen
Roskilde Museum
Culture-historical museum regarding Roskilde
Roskilde Museums Købmandsgaard
Merchant's house from app. 1920
Rudolph Tegners Museum og Statuepark
Imaginative and inspiring sculptures in Dronningmølle
Rækker Møllegård
Large garden grounds near Skjern and museum for Søren Kierkegaard
Rødvig Skibsmotormuseum
Marine engines from 1903 to 1973
Rådhussamlingen
Thrill and horror in the town hall of Ribe
Sallingsund og Omegns Museum
Regional museum of local history in the old station building from 1884 in Roslev
Sct. Hans Hospitals Museum
See exhibitions about the story of the hospital and psychopathological art in Roskilde
Selsø Slot
Castle with a history that goes back hundreds of years - 14 km from Frederikssund
Simons Raalling - Egnssamling
Museum of local history in Ålbæk
Sjællands Traktormuseum
Nostalgic tractors in Herfølge
Skagen Bamsemuseum
Fascinating teddybear museum in the house Skagenhus
Skagens Museum
Works of some of the most famous Skagen artists
Skanderborg Bunkerne
Exhibition about World War II in authentic surroundings.
Skanderborg Museum - Museet på Adelgade
The story about the castle Skanderborg Slot and its surroundings.
Skarregaard
One of the oldest farms in Mors has been converted into a museum
Skarrild-Karstoft Museum
Small museum next to the church of Skarrild - just south of Herning
Skibshallerne
Museum of fishery and old wooden ships in Gilleleje
Skjoldborgs Hus
Step into the past in the childhood home of Johan Skjoldborg in Øsløs
Skovsgaard Vogn-, Skovbrugs- og Tyendemuseum
Museum near Rudkøbing with the themes forestry, carriages and servants
Skuldelev Dukkemuseum og Legetøjssamling
One of Denmark's largest collections of toys in private ownership near Skibby
Slesvigske Vognsamling
Carriage collection in an old cloth mill in Haderslev
Smedemuseet
The development of the old agricultural forge at Nykøbing Mors
Sneglehuset
A house in Thyborøn, decorated with 1,000,000 shells
Sophienholm
Varying art exhibitions in very scenic surroundings on Sealand
Sorø Kunstmuseum
Danish art from the 13th century and up till today in Sorø
Souvenariet
3,000 souvenirs from all over the world in Tranekær on Langeland - from kitsch to cult
Spillemands-, Jagt- og Skovbrugsmuseet
Culture-historical museum near Skørping
Sporvejsmuseet, Skjoldenæsholm
A historical museum in Jystrup with rolling tramcars
Spøttrup Borg
Welcome to the Middle Ages!
Statens Museum for Kunst
Experience art from the 14th. century and up till today in Copenhagen.
Steno Museet
Denmark's museum of the history of knowledge in Aarhus
Stevns Museum
The history of Stevns Klint and its inhabitants
Strandfogedgården
Nature and culture-historical exhibition about the coast between Lønstrup and Løkken
Strandgården
A western Jutland farm in Ulfborg from the year 1875
Strandingsmuseum St. George
The museum in Torsminde gives you an idea of the different shipwrecks throughout the years
Struer Museum
The culture-historical development in the Struer area
Strøjer Samlingen
Strøjer Samlingen contains a wide range of cars
Stubbekøbing Motorcykel- og Radiomuseum
Two interesting museums in one building in Stubbekøbing
Stubbekøbing Museum
Cosy museum of local history in a preserved merchant's house
Støberimuseet
Old iron foundry in Nykøbing on the island Mors
Sæby Museum og Arkiv - Nordjyllands Kystmuseum
Regional market town museum in idyllic surroundings
Søby Brunkulsmuseum
A magnificent landscape in the centre of Denmark, near Herning, with brown coal pits and a museum
Søfartsudstilling, Rudkøbing
Fishery, shipping, boatbuilder's yard and underwater archaeology on Langeland
Sønderborg Museum
Culture-historical museum at the castle
Sønderho Gamle Redningsstation
Experience an original, old and fully equipped lifeboat on Fanø
Textilforum
Acquaint yourselves with the former principal industry of central Jutland - the textile industry - in Herning
Thisted Museum
The museum contains an impressive collection of ancient monuments
Thyholm Egnsmuseum
Regional museum in 5 buildings
Tidens Samling
Tidens Samling is a museum with modern Denmark as theme
Tirpitz
Impressive theme museum with interesting exhibitions in Blåvand
Tobaksladen
Denmark's only preserved tobacco-drying shed is situated in Tranekær on Langeland
Toldbodhus
Models of ships as well as maritime objects in Assens
Tornby Gl. Købmandsgård
Cosy shopping in the merchant's house in Tornby from the year 1860
Traktormuseum
Tractors and engines from 1880 to 1960 in Eskildstrup on Falster
Trapholt
Anna Ancher, Franciska Clausen and Egill Jacobsen are some of the most famous artists with works at Trapholt in Kolding
Trehøje Museum
A culture-historical museum in Ørnhøj about life in the countryside
Træmuseet
Experience the traditional processing of wood in Spøttrup
Tøjhusmuseet
Experience cannons, hand weapons, armour, uniforms and formidable swords at Tøjhusmuseet.
Tåsinge Skipperhjem og Folkemindesamling
4 buildings on Tåsinge - full of surprises
Uldum Mølle
Dutch windmill from the year 1895
Varde Miniby
Experience Varde as the town appeared in the middle of the 19th. century.
Varde Museum
Experience handicraft, silverware and textiles as well as local history here.
Vedersø Egnsmuseum
Regional museum - established in an old school near Ulfborg
Vejen Kunstmuseum
Symbolistic works
Vejle Kunstmuseum
Danish and international paintings, graphics and sculptures
Vendsyssel historiske Museum - Hirtshals
In an old fishing house you can learn more about the fishery
Vendsyssel historiske Museum - Hjørring
The area Vendsyssel from the Stona Age and up till today
Vendsyssel Kunstmuseum
At the art museum in Hjørring you will have an all-round experience
Vester Palsgaard Skovmuseum
Regional museum with tools and textiles
Vesthimmerlands Museum
Archaeology, culture history and contemporary art
Vestjyllands Bilsamling
In Bækmarksbro you will find classic cars, which can be both admired and touched
Viborg Stiftsmuseum
The history of the town Viborg and its neighbourhood
Vikingemuseet Ladby
Viking ships and archaeological finds from the surroundings of Kerteminde
Vikingeskibsmuseet Roskilde
If your are interested in the viking age and the ships from this period - this museum is definately a worth a visit!
Vildmosemuseet
Life in the large bog 'Store Vildmose' throughout 300 years at a museum in Brønderslev
Vingsted historiske værksted
The iron age village in Vingsted near Vejle
Vorupør Museum
Learn more about Vorupør and the coastal population
Willemoesgården
Culture-historical museum and art collection near Assens
Zeppelin Museet
Experience one of the German empire's large airship bases in Tønder
Ærø Museum
Regional museum with exceptional collections of costumes and toys
Øm Kloster Museum
Enjoy the good view from the mediaeval monastery in Skanderborg
Aalborg Historiske Museum
Provincial museum with interesting historic collections.
Copyright © 2003-2020 Sol og Strand Feriehusudlejning A/S