Historic culture, Denmark
The culture-historical sights in Denmark consist of old, historic buildings, monuments and memorial, placed on historically interesting places, bunker installations, castle ruins, old and intact workshops, cemeteries and burial places with interesting stone formations, iron-age settlements, viking-age villages and castles, grave mounds, long barrows, cromlechs, passage graves – often underground – with burial chambers, as well as other places, which exude a long and eventful history. In the old workshops you can observe how a blacksmith forges a horseshoe over open fire. The many bunker installations and fortifications illustrate life in and around the buildings during World War 2. All around the country you can experience old houses and schools, which appear in the original style with genuine furniture and interior.

Show on map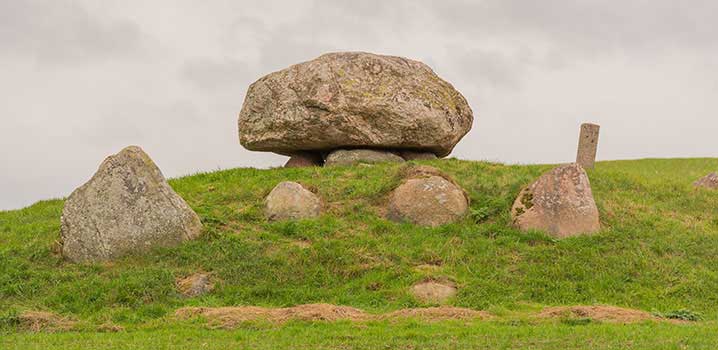 Den Gamle Smedie, Vildbjerg
See how the old smiting is carried out
Egtved Pigens gravplads
One of Denmark's best preserved finds from the bronze age
Gammelby Mølle
Specialities in an old water mill near Fredericia
Gjellergård
Old farm in an idyllic nature area in the bay Nissum Bredning
Hammershus
Visit the oldest castle ruin in Northern Europe on the top of Bornholm
Han Herred Havbåde
Experience when the old coasting vessels are being prepared for coming back at sea.
Hjortspringbåden
Reconstruction of the oldest plank-built boat in Scandinavia - in Nordborg on Als
Kalø Slotsruin
Castle ruin from 1313
Lindholm Høje
A well-preserved and historic burial place in Nørresundby
Munkenes Teglovn
Brick kiln from the year 1355 in Vejle
Nybølle Lunder
Forest with an abundant of barrows - just north of Horslunde
Oldtidsminderne, Tustrup
Burial customs from the neolithic period
Ravningbroen
Reconstruction of the bridge Ravningbroen from the Viking age
Stenbjerg Landingsplads
Former landing place for fishing vessels near Snedsted
Vibæk Vandmølle
An idyllic watermill in timber frame and with a thatched roof on Als
Vikingeborgen Aggersborg
Denmark's largest viking stronghold near Aggersund
Vikingeborgen Trelleborg
Experience the old Viking fortress of Harald Bluetooth from the year 980 near Slagelse
Copyright © 2003-2020 Sol og Strand Feriehusudlejning A/S