Art & crafts, Denmark
Denmark is rich in craftsmen, who can often be visited in their galleries, potteries, glass and candle factories, weaving mills or other workshops around the country. Here you can observe the artists as they work and perhaps buy some of their art and unique specimens. In more candle factories you are able to make your own candles. At the Danish craftsmen you can see and buy everything from beautiful oil and watercolour paintings to graphics, lithographs, life-drawings, paper collages, figures and sculptures, made out of granite, gypsum, iron, wood etc., hand-made candles, home-made soaps, flower decorations, knitwear, woollens, textile art, leather goods, glass art in all colours and shades, amber ornaments, ceramic ware, raku as well as articles for everyday use of wood and pottery.

Show on map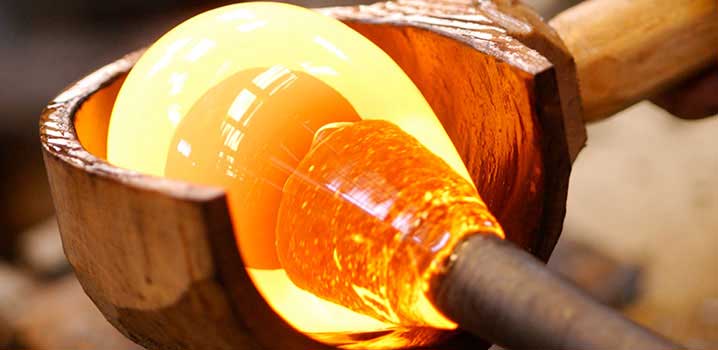 Atelier og Galleri Nielsens Kunst
Visit a pleasant and colourful gallery in the tranquil and scenic nature of Langeland.
Atelier Skorá
Workshop with richly coloured paintings on Falster.
Ateljes - Galleri Jes Nordby
Experience an interesting and different studio in Sønder Stenderup
Billedhugger Flemming Holm og Anni Kristine
Beautiful sculptures made out of granite, bronze and marble in Hjørring
Birte Troest
Gallery with ceramic in Nysted on Lolland
Bjerre Keramik
Visit a gallery with a workshop near Struer
Blokhus Lys
See how candles are manufactured or try it yourselves!
Blomstergaarden
Flowers, decoration and ornamentation near Stubbekøbing on Falster
Blåbjerg Lysstøberi
Use your creativity - dip your own candles in Henne
Blåvand Lys
Dip your own candles!
Bork Havn Lysstøberi
Denmark's smallest candle factory with a large selection
Bousøgaard Pottemageri/Galleri
An active workshop in Skjern with new Danish art and pottery
Brittas Keramik
Workshop in Thyholm with exhibition and sale of the products, which are manufactured her
Bronzeskulpturer Galleri
Near Løkken you can experience interesting bronze art
Bruuns Keramik
An active pottery in Løgstør
Det Blå Hjørne
Tremendously beautiful ornaments in Lønstrup
Det Lille Kunstværksted
In Rudkøbing you will find sculptures, ornaments, pictures and objects, made out of teeth and bones
Dorte Visby Keramik
Experience the expressive pottery in Lønstrup
Dorthe Hansen Keramik
Unique pottery and article for everyday use near Tversted
Dorthe og Ebbe Hjorth - guld- og sølvsmedie
Goldsmith's workshop in scenic nature in Thy
Dot Keramik
Active workshop in Frederikshavn - with flower decorations and pottery
Ejstrup Lys
High quality handmade candels, artware and gift items
Eva Herman Keramik
Beautifully decorated pottery with flower and dune subject in the workshop near Ulfborg
Frøkner og Fruer
– a world of unique details
Frøsig keramik og galleri
Pottery from own workshop - 8 km from Frederikshavn
Fyns Grafiske Værksted
In Odense you can see an exhibition of art, which is created under the same roof
Galerie Erz
Varying exhibitions of paintings, drawings and photos in Skærbæk
Galerie Lærken Danmark
Museum of modern art in Nykøbing Falster
Galleri 63
Handicraft in Ringkøbing
Galleri Alstrup
Art and pottery near Farsø
Galleri Arleth
Gallery near Halskov Vænge
Galleri Borris
Gallery with a view of a river valley near Viborg
Galleri Djurs
Modern gallery in Ryomgård
Galleri Enggaard
Gallery on Fanø with interesting paintings
Galleri Heike Arndt
Interesting and charming gallery with art of a high quality
Galleri KC
Modern paintings and sculptures, international glass art as well as ornaments - in the town Fjerritslev
Galleri Kobolt
Oil paintings and watercolour paintings in beautiful colours near Rudkøbing
Galleri Kvisten
Creative gifts near Aars
Galleri Løkken
The quite unique North Jutland atmosphere - as an oil painting
Galleri Lønstrup
Watercolour paintings with subjects from the west coast
Galleri M
Gallery in Bogense with international graphics and unique art as well as Denmark's largest sculpture park
Galleri Mainsøe
Expressionistic paintings on the spit Sjællands Odde
Galleri Munken
Paintings, sculptures, pottery and music near Løkken
Galleri Møller P.
Pottery, sculptures and oil paintings - south of Fjaltring
Galleri Pagter
Art in Kolding
Galleri Randers
Cosy and inspiring gallery with paintings and sculptures
Galleri Rita Lund
Royal painter in Marstal
Galleri Rubani
Small studio and gallery near Nibe
Galleri Rusager
Amazing sculptures in Søby on the island Ærø
Galleri Rødhusgaarden
Unique art and craft in Rødhus
Galleri Salshus
Beautiful art in untouched nature near Thisted
Galleri Skomagerhuset
Pottery and gallery with traditions in Ringkøbing
Galleri Skovhuset
Interesting gallery in Maribo
Galleri Slugen
Interesting and varying exhibitions in Esbjerg
Galleri Syd
Grand Palais in Nykøbing F - more than 200 paintings and sculptures
Galleri Tex
Cosy meeting place for art lovers near Frøstrup
Galleri Uggerby
Gallery in idyllic surroundings between Hirtshals and Tversted
Galleri Uggerby, Lønstrup
Gallery in Lønstrup's highest building from 1912
Gallery Lakehouse
Gallery in a lakehouse by Bredsten
Getter Keramik
Practical and decorative pottery in Oure
GG Glaskunst
Beautiful glass art and unique glass articles for everyday use near Ribe
Giebelhausen Keramik
Unique decorative art in Lønstrup
Glasblæseriet v. Bente Sonne
Glass factory in Svendborg
Glasgalleriet, Roskilde
From melted glass to handicraft
Glashuset, Lønstrup
Glass factory with the passion of experimenting
Glaskunst Blokhus
Interesting shop and workshop with glass art
Glasmagerne
Beautiful and unique glass products on Tåsinge
Glaspusteriet Møller og Rønholm
Unique glass products and decorative art in idyllic Ebeltoft
Glasværkstedet
Artistic glass in the pedestrian street of Silkeborg
Glasværkstedet Heden
Glass workshop near the mediaeval castle Spøttrup
Granitskulptur, Jens Stobberup
Beautiful figures and sculptures in granite near Struer
Gule Længe Antik
Interesting antiquities in Lønstrup
Havlit Stentøj
Unique specimens and articles for everyday use in Blåvand
Helge Strufe
Experience scenic landscapes - painted with oil - in Harpelunde on Lolland
HF-Keramik
Pottery and shop near Spøttrup
Hjerm Kunstgalleri
25 years with art in Hjerm near Holstebro
Hornvarefabrikken
Experience horn spoons and other articles for everyday use, made out of horn, near Lemvig
Huset i Asnæs
Interesting art area
Hvide Sande Lys
Candle factory and shop
Jacobsen-Clareboudt
Landscape sculptures in the scenic Vejle Ådal
Jettestuen
Art - with the island Fur as a source of inspiration
Karin Sauer
Raku pottery of the finest kind in Nykøbing Sj
Keramik og Kaos
Tremendous art exhibition - 8 km from Nykøbing Sjælland
Keramik v/ Catherine Collart
Exceptional pottery with a touch of humour in Saltum
Keramiker Else Rasmussen
Experience a different and unique workshop near Hadsund
Keramiker Sten Børsting
Vases, sculptures and raku of a high quality in Ribe
Keramikkat
An exhibition of clay characters and sculptures near Rudkøbing
Keramoda
Pottery workshop near Hjørring with focus on the simple design
Kloster Design
Dip your own candles and pay by weight in the candle factory near Ringkøbing
Knudsgaard
Pots with a black oxide coating - manufactured according to old traditions in Tim, Western Jutland
Kunstforeningen Pakhuset
Art in an old corn storage room Nykøbing Sj
Kunstgården i Skovby
Permanent and varying art exhibitions in beautiful rooms and surroundings in Bogense
Kunststuen
With Kunststuen in Skagen you can experience interesting collages and encaustic paintings
Købmandsgården
Købmandsgården in Fjerritslev contains article for everyday use, fabrics and accessories for patchwork
Lange Kunsthåndværk
Inspiring handicraft in the middle of Aalborg
Lien Galleri
The Louisiana of Jutland in scenic surroundings near Fjerritslev
Lilli's Glasdesign
Experience 'light' and ingenious handicraft, made out of coloured glass, in Aakirkeby
Lunaria
Secretive leave collages and a fantastic garden i Hurup Thy
Lykkegaard
Art, handicraft and second-hand dealer in Tversted
Muld Plus Guld
Open workshop with pottery and ornaments in Nykøbing Sj
Mumiland
Art workshop on Ærø with jewellery made of stones from the island, and ingenious paintings
Møhl og Drivsholm Glas
Glass workshop and gallery in the harbour of Ebeltoft
Papirmuseets By
Paper museum in the interesting miniature town in Gråsten
PondCottage Art
Sculpture workshop and gallery in Løkken
Pottehuset
Colourful pottery and unique articles for everyday use in Nimtofte
Rakugalleriet
Art gallery and pottery with varying exhibitions in Brovst
Ravgården
The amber museum is situated between Lønstrup and Hjørring
Ravsliberen, Blåvand
Visit the amber grinder 'Ravsliberen i Blåvand' and watch him work
Ravsliberen, Sæby
Amber grindery and museum
Roskildegalleriet
Paintings in all price ranges, styles and sizes
Rømø Lys
Quality candles in all the colours of the rainbow
Saltum Smykke og Pibekunst
Ornaments of precious materials
Sandskulpturfestival Søndervig
Experience African wildlife in Søndervig – if you dare!
Skagen Glasværksted
Glass factory in an interesting building
Solkilde
Interesting art and handicraft in Tversted
Stovby Glaspusteri
Observe the work of the glassblower in Væggerløse on Falster
Strand-Galleriet
Works of art, created by 30 different artists, near Vejers Strand
Studio Keramik ved Susan Lange
Open workshop and gallery - 10 km from Haderslev
Susanne Lanng
Exquisite jewelry in Gl. Skagen
Sæberiet
Perfumed soaps and aromatic salts in Søby on the island Ærø
Sæby Glaspusteri
Glass in the old part of town
TICKON - Land art
Kombiner naturoplevelser med kunst i slotsparken TICKON.
Trillee i Skaven
Colourful artist workshop with flair in Tarm
Trædrejeren fra Fyn
Wood - a wonderful and natural material. Experience the wood turner in Bogense
Tue Keramik Galleri
Potter and weaver - under one roof - in Fårevejle
Ulla Keramik
In Bagenkop you will find one of Lolland's oldest potteries
Venø Billedværksted
Paintings, drawings and pottery - inspired by the nature on the island Venø
Vestjysk Kunstgalleri
Classical and modern art in Esbjerg
Vindelev Kro og Galleri
Pamper your senses in Jelling
Værkstedsbutikken
Ornaments and felt art near the beach Nymølle Strand
Wilja Bech, Galleri Ærtebjerg
'Airy' watercolour and oil paintings from 'another world' in Grevinge
Copyright © 2003-2020 Sol og Strand Feriehusudlejning A/S