Home

>

Experience centres
Experience centres, Denmark
Experience/adventure centres are a sort of communication centres with experiences and mysteries, where you, as visitors, can try out different activities and obtain a wider understanding for subjects like f.x. nature, nature phenomenon, the sea, the sea floor, flora, fauna, ecology, Denmarks past, astronomy, space travel, biology, chemistry and physics. You can experiment, test various machines and installations, challenge yourselves and create your own experiences. Different arrangements for children are often carried out on the centres, and by that their creativity is tested. Experience activities, exhibitions and virtual medias on the experience/adventure centres or go on a sail, a trip on a historic railway or into nature with a local guide. Knowledge is combined with activities and experiences here.

Show on map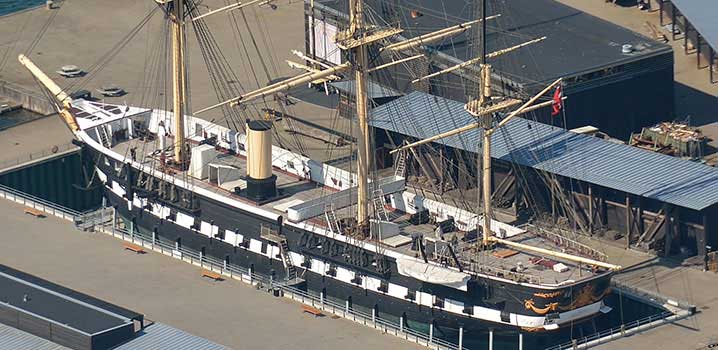 Bornholms Middelaldercenter
The medieval centre of Bornholms is a centre of history and located in Gudhjem
Bundsbæk Mølle
Idyllically situated and still functioning watermill near Skjern
Børnekulturhuset Fyrtøjet
A culture house for children of all ages in Odense
Danmarks Borgcenter
Danmarks Borgcenter - blue blood for everbody
Daugbjerg Kalkgruber
A journey to the interior of the earth in Denmark's oldest lime pit in Stoholm
Energimuseet
Museum - science - nature - near Bjerringbro
Experimentarium
Science center for the curious in Copenhagen
Fjord og Bælt
Experience the magic of the sea - in Kerteminde
Fregatten Jylland
The world's longest wooden vessel - in Ebeltoft
GeoCenter Møns Klint
Exciting exhibition about the geological development of Denmark
Gl. Holtegaard
Central and elegant exhibition rooms near Copenhagen
Guinness World Records
Amusing and interesting world records - in Copenhagen
Hjemsted Oldtidspark
Take a step into the world of the iron age in Skærbæk
JyllandsAkvariet
A fascinating world of sand, waves and cries of gulls in Thyborøn
Kattegatcentret
The sea in action - try the new experience zone
Klostermølle Naturcenter
Visit Klostermølle Naturcenter by the beautiful lakes of Skanderborg
Kulturcentret Tuskær
All kinds of culture in Lemvig - from all epochs and countries
Kystcentret Thyborøn
The largest exploratorium on the Danish North Sea coast
Mariager Saltcenter
Experience the magic of the salt in Mariager
Munkeruphus
Cultural centre with a tempting beach park near Dronningmølle
Musikhuset Esbjerg
The music house of Esbjerg is designed by the world-renowned architechts Jan and Jørn Utzon
Mønsted Kalkgruber
The world's largest limestone mine
Naturama
At Naturama in Svendborg we communicate natural history in a new way.
NaturBornholm
The story of Bornholm is told at NaturBornholm in Aakirkeby
Naturcenter Tønnisgård
Nature activities for both children and adults on Rømø
Naturpark Hindsgavl Dyrehave
Nordsøen Oceanarium
Go on adventure with the family
Nordvest Safari Thy-Mors, Doverodde Købmandsgård
Culture and nature in an old merchant's house in Hurup Thy by the Liim Fiord
Nørre Vosborg
Manor house and cultural centre at the inlet Nissum Fjord
Orion Planetarium
An advanced, but completely safe trip to the universe from Jels
Pakhuset, Dragør
Warehouse with culinary and cultural delicacies
RemisenBrande
Culture centre in an old depot
Ribe VikingeCenter
Step into the world of the Vikings!
Ripley´s Believe It or Not!
Amazing sensations in Copenhagen
Skagen Odde Naturcenter
About wind, water, light and sand
Springeren - Maritimt Oplevelsescenter
Interesting experience centre with interactive exhibitions in Aalborg.
Stenvad Mosebrugscenter
Center, describing the history of the peat, near Ørum
The Mystic Exploratorie
A world of mysterious phenomena, thrill and playing in Copenhagen
Tycho Brahe Planetarium
Experience a completely new world only a few minuts from Rådhuspladsen, the center of Copenhagen
Universe
Science and adventure park in Nordborg
Utzon Center
Impressive building on the pleasant waterfront of Aalborg
Vadehavscentret
The exhibitions of the centre in Ribe deal with nature, culture, floods and objects, washed ashore from the Wadden Sea
Vildmoseporten
Interesting experience centre in the moor near Aabybro
Zoologisk Museum
Interesting museum of natural history in Copenhagen
Øhavets Smakkecenter
Experience the south Funen archipelago - with boat from Rudkøbing
Økolariet
An adventure centre in Vejle, which deals with nature, environment and energy
Copyright © 2003-2020 Sol og Strand Feriehusudlejning A/S