Home

>

Tranekær Slotsmølle
Tranekær Slotsmølle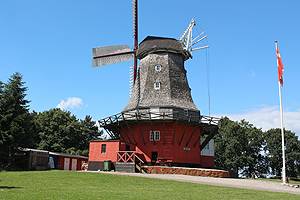 Langeland is famous for its many windmills, and one of these is Trankær Slotsmølle, which is located just north of the town Tranekær.
This Dutch windmill originates from the year 1846. Flour was milled here until 2006, when the mill was damaged and therefore put out of action.
You can inspect the mill year round, both outside and inside, and furthermore, it contains an interesting exhibition about its history. At Christmas time the mill is decorated and a small Christmas marked with stalls, selling Christmas presents, home baking and Christmas punch, is arranged on the spot.
Tranekær Slotsmølle
Lejbøllevej 1
5953 Tranekær
Tlf: 63511010

Show on map
Copyright © 2003-2020 Sol og Strand Feriehusudlejning A/S