Buildings, Denmark
In Denmark you can experience fabled castles with interesting architecture and beautiful towers, surrounded by moats with drawbridges. Some castles are open to the public and can be seen on a guided tour or on your own. Often you will find that museums and restaurants have been established on the castles. Furthermore, you can experience noble manor houses, large estates, historic convents, mediaeval castles, castle ruins and old redoubts. The many cathedrals, chapels and other special churches, like f.x. the characteristic round churches in Bornholm, are worth a visit. Many of the idyllic water and windmills have been restored, and when the wind is right, flour is being milled here. Equally, many of the old farms have been brought back to their original state. A part of the lighthouses, water towers and belvederes today house interesting exhibitions. Furthermore, you can experience sculptures, which are many metres high and are visible from a distance of many kilometres.

Show on map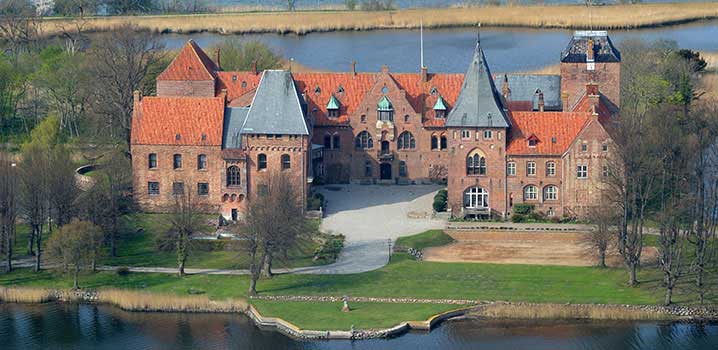 Arreskov Slot
The beautiful, red castle is very scenically situated in Faaborg
Augustenborg Slot
Experience the impressive castle with an interesting history
Augustenborg Slotskirke
A quite unique and very beautifully decorated chapel
Aulum Mølle
Beautiful mill with varying art exhibitions in the mill of Aulum
Blåvandshuk Fyr
Beautiful lighthouse on Denmark's most western point
Bovbjerg Fyr
The beautiful, red lighthouse is the landmark of Bovbjerg
Brahesborg
Very scenically situated estate near Assens with a beautiful manor house park
Brahetrolleborg Slot
Visit the rhododendron park by the historic castle near Faaborg
Clausholm Slot
The historic castle in Hadsten is one of Denmark's oldest and most characteristic baroque buildings
Cloostårnet Bangsbo
The landmark of Frederikshavn
Damgård Mølle
Octagonal Dutch windmill from 1867 in Rødekro
Den Lille Havfrue
At Langelinie in Copenhagen you will find one of Denmark's most significant tourist attractions
Den Tilsandede Kirke
The church, buried in sand, near Skagen is a famous natural sight
Dragsholm Slot
Combination of a mediaeval and a baroque castle in Hørve
Egeskov Mølle
Beautiful mill with regional exhibitions in Kværndrup
Elstrup Mølle
A beautiful Dutch mill with a museum near Nordborg
Esbjerg Vandtårn
An exhibition about water towers and a unique view
Esrum Kloster
In Græsted you can experience a Cistercian monastery from the Middle Ages
Europas Højeste Solur
12 metres high sundial in Nordborg on Als
Faddersbøl Mølle
Dutch mill from 1861 near Thisted
Faaborg Klokketårn
The bell tower is the landmark of Faaborg
Gavnø Slot
Gavnø for everyone!
Gedesby Mølle
Denmark's most southerly Dutch mill near Gedser on Falster
Gedser Vandtårn
The beautiful, yellow water tower is the southernmost in Denmark
Gl. Kongsgård
Experience a nearly intact copyhold farm from app. 1700 in Lejre
Gram Slot
Splendid castle from the 16th century
Grubbe Mølle
Old mill with an idyllic location - close to Faaborg
Gråsten Slot
Royal castle with a church and a park
Haderslev Domkirke
A unique monument of Gothic cathedral construction art in Denmark
Hagenskov Slot
Mediaeval estate near Ebberup in the western part of Funen
Hals Museum og Skanse
Hals Skanse is situated by the mouth of the Liim Fiord
Harridslevgaard Slot
Beautiful and historical Renaissance castle with an octagonal stair turret near Bogense
Havnø Mølle
Idyllically situated and beautifully restored windmill near Hadsund
Herregården Baggesvogn
Historic manor house and old beech forest in the middle of northern Jutland
Herregården Bratskov
Beautiful old and well-maintained manor house near Brovst
Hirtshals Fyr
35 metres high lighthouse
Hospitalsbunkeren
Interesting bunker near Lemvig
Hvedholm Slot
Castle from the Middle Ages in Faaborg
Hvide Sande Sluseanlæg
The lock system of Hvide Sande - worth a visit!
Jels Mølle
The mill 'Jels Mølle' is situated in a scenic area in Rødding in Central/South Jutland
Kaleko Mølle
Experience Denmark's oldest functioning watermill in Faaborg
Kegnæs Fyrtårn
Lighthouse from 1845 on Als
Klosterkirken
Abbey church from the 15th century in Nykøbing F
Knivholt Hovedgård
Manor house from the 14th century in Frederikshavn
Krengerup Slot
A castle in the scenic forest Krengerup Skov near Glamsbjerg
Kronborg Slot
In Northern Sealand you can experience one of Scandinavia's most significant Renaissance castles
Ledreborg Slot og Park
One of Denmark's most romantic castles is situated near Lejre
Lumsås Mølle
Functional Dutch windmill in Nykøbing Sj
Lyngvig Fyr
Impressive lighthouse from the year 1906 in Hvide Sande
Marselisborg Slot og Park
Beautiful castle from 1902 with an adjoining park in Århus
Mennesket ved Havet
The 9 metres high sculptures are the landmark of Esbjerg
Nyker Rundkirke
The smallest of the round churches of Bornholm in Rønne
Nylars Rundkirke
The youngest and best preserved round church of Bornholm in Aakirkeby
Nysted Vandtårn
Old water tower in Nysted on Lolland with a magnificent view
Olsker Rundkirke
The highest and slimmest of the round churches of Bornholm in Allinge
Pibe Mølle
Sealand's only post mill - near Helsinge
Ribe Domkirke
Denmark's oldest cathedral is located in Denmark's oldest town
Ribe Kloster
One of Denmark's best-preserved monasteries
Rosenholm Slot
Experience the noble, well-preserved and beautiful castle in Hornslet
Roskilde Domkirke
The burial place, preferred by aristocracy
Rubjerg Knude Fyr
A lighthouse - haunted by the sand drift - near Løkken
Sct. Catharinæ Kirke og Klostergården
Abbey church in Ribe
Sdr. Broby Vandmølle
Old water mill in Broby with modern flats
Skagen Fyr
Lighthouse from the year 1558
Skjern Vindmølle
Windmill with different cultural activities
Skt. Knuds Kirke - Odense Domkirke
Elegant cathedral with a golden altarpiece in Odense
Sophiendals Gods
Noble castle in Renaissance style in Skanderborg
Sostrup Slot
Idyllic castle near Grenaa
Stouby Mølle
Running post mill in Væggerløse on Falster
Sønderborg Slot
Beautiful renaissance castle with lots of history
Sønderho Mølle
The beautiful old mill is the landmark of Sønderho, Fanø
Sønderskov Herregård
Manor house, museum and gourmet restaurant near Brørup, in the centre of the country
Thorsager Kirke
Jutland's only round church
Tranekær Slotsmølle
Windmill from the year 1846 on Langeland
Trente Mølle
Old watermill with an interesting past in Broby in the centre of Funen
Tørning Mølle
Tørning Mølle near Vojens offers an interesting history, old buildings, waterpower and exhibitions
Uhre Mølle
Dutch windmill from about 1840 near Brande
Valdemars Slot
Historical castle with 4 museums on the lovely island of Tåsinge
Vejle Vindmølle
Windmill from the year 1890
Vennebjerg Mølle
A windmill with a lovely view near Hjørring
Viborg Domkirke
Cathedral with a crypt as well as paintings by the artist Skovgaard
Vindeby Mølle
225-years old Dutch windmill near Horslunde on Lolland
Vippefyret
A quite unique lighthouse in Skagen
Vitskøl Kloster
Interesting monastery from the year 1157 near Ranum
Voergård Slot
One of Denmark's finest and best preserved Renaissance castles near Dronninglund
Wedellsborg
Funen castle on its own peninsular
Øster Sundby Mølle
Dutch mill near Aalborg
Østerlars Rundkirke
The largest of the round churches of Bornholm in Gudhjem
Aalborg Tårnet
Enjoy the view of Aalborg - 105 metres above sea level
Aarhus Domkirke
Experience the cathedral - one of the oldest brick buildings in Jutland!
Copyright © 2003-2020 Sol og Strand Feriehusudlejning A/S