Amusements, Denmark
No matter where you stay, you will always find an amusement park, a fun fair, an action park, a casino or a theme park nearby, which offers sights and activities for the whole family. Amusement parks with roller coasters, ferris wheels, hair-raising activities, speed, action and excitement are available, but it is also possible to visit a cosy park with activities for children, like f.x. carousels, trampolines and pony rides. Here all activities go on in a slow pace and close to the ground. Some parks have been established in along with beautiful gardens, flower grounds and animal parks, and some are attached to an outdoor aquapark. In an amusement park you often pay an entry fee, and then all of the activities can be used for free. In a fun fair you often pay for each ride.

Show on map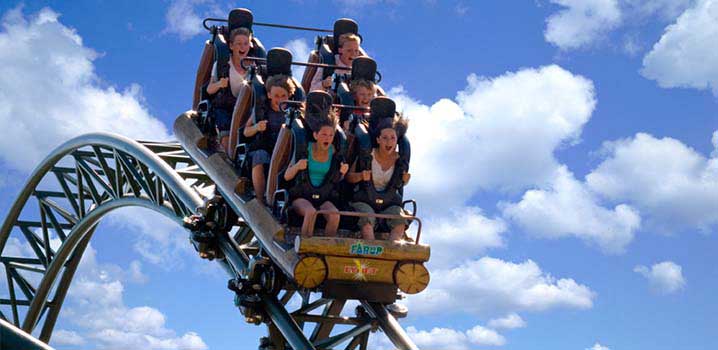 Baboon City
New 9,000 square metres amusement centre in Herning
BonBon-Land
It is biiip fun in BonBon-Land – for the whole family
Brændesgårdshaven
Experience the amusement park of Bornholm with waterworld and zoo.
Casino Aalborg
Take a punt!
Djurs Sommerland
Welcome to Scandinavia's largest summerland
Dyrehavsbakken
People have been amused in Bakken in Klampenborg since the sixteenth century
Fårup Sommerland
Close to the beach and still way out in the forest you will find the amusement park Fårup Sommerland.
Jesperhus
Flower and amusement park on the Liim Fiord island Mors
Løkken Action House
Welcome to amusement for the whole family year round
Sommerland Sjælland
Get the shoulders down in Sommerland Sjælland
Tivoli
Tivoli in Copenhagen is a true crowd puller and a pure Mekka for the visitor
Tivoli Friheden
Tivoli Friheden offers amusements and activities for children of all ages
Copyright © 2003-2020 Sol og Strand Feriehusudlejning A/S