Online booking of ferry tickets
Please book your tickets for ferries to Denmark here:
The holiday begins as soon as you leave home. By including a cosy ferry passage in your holiday, the trip to the holiday home is as comfortable as possible for everyone in the family.
Choose the ferry service, which suits you best, and enjoy that you have time for being together and stretching your legs before you make for the holiday home.
Order your ferry service when you book your house - then you are sure to get place on the ferry that souits you best.
In Denmark you can sail between Jutland and Sealand, between Langeland and Lolland, over the inlets and to islands land Fur, Læsø, Fanø, Samsø and Endelave among others.
If you wish to go with the ferry to Denmark, you can book your service by using our booking box. You can sail to Denmark from Harwich with DFDS Seaways.
Five lovely Danish holiday islands
The ferry AlsFærgen sails to Als and Funen
Use the crossing Bøjden-Fynshavn, if you are to visit Als or if you wish to make a shortcut to Jutland or Funen. The crossing lasts 50 minutes and you can buy your ticket directly by the ferry.
Visit Fanø
The ferry FanøFærgen shuttles between Esbjerg and Nordby on Fanø. The crossing takes 12 minutes. You can buy your tickets directly by the ferry.
Take the ferry LangelandsFærgen
LangelandsFærgen sails between Spodsbjerg on Langeland and Tårs on Lolland. The crossing lasts 45 minutes and the ferry sails once every hour. Book your tickets here.
Experience Samsø
The shipping line Samsø Rederi sails between Sælvig on Samsø and Hou in Jutland as well as between Kolby Kås on Samsø and Kalundborg on Sealand. The crossing between Sælvig and Hou takes 1 hour. And the crossing between Kolby Kås and Kalundborg lasts 1 hour and 50 minutes. The shipping line Færgen sails between Ballen on Samsø and Kalundborg on Sealand. This crossing lasts 1 hour and 30 minutes. Sol og Strand is in co-operation with Færgen. Book your Samsø ferry ticket here.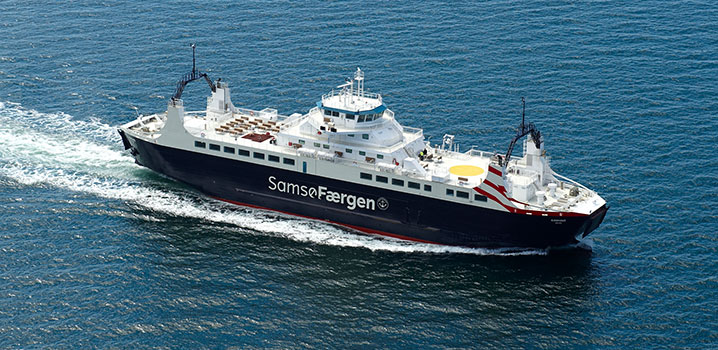 Lovely Læsø
Visit the great holiday island Læsø. Take the ferry Læsøfærgen, which sails between 4 and 7 times a day – depending on the season. The crossing lasts 1 hour and 30 minutes. Buy your ticket directly by the directly by Læsøfærgen or on https://www.laesoe-line.dk
Island holiday in Denmark
With Denmark's more than 400 named islands you have the opportunity for experiencing a lovey and tranquil island holiday, surrounded by sea and nature. Denmark's many small islands can be reached with small island and shortcut ferries from the mainland. So no matter if you wish to go on a day trip with, plenty of new impressions, or on a genuine island experience trip during your stay in a holiday home, the opportunities are endless. The crossings with these island and shortcut ferries can vary in sail time from 2 min. to 2 hours and 30 min. The crossings can be conducted with small ferries with room for just 2 cars and bigger ferries with room for 36 cars. You will find the small ferry services on the map below.
Overview of the island and shortcut ferries, sailing to the small Danish island