Feriecenter RIM in Dänemark
Go on holiday on an island and enjoy the fresh sea breeze, the cosy atmosphere and the many activities for the whole family on the holiday centre Rim Rømø.

Rim Rømø is scenically situated on the south-eastern part of the holiday island Rømø - in scenic and tranquil nature surroundings.

Close to the centre you will find the roaring North Sea with the great wide and sandy beaches, and towards south the national park Vadehavet (the Jutland Wadden Sea)with the many birds is located. The lovely nature of Rømø with moor areas and dune plantation invites cosy nature experiences - on foot, on bicycle or on horseback.

Rim Rømø offers it's guests an abundance of facilities and activities. Among other things you can gambol in the indoor swimming pool, play on the playground, use an internet café and play various games.

You will find the activities within walking distance of the holiday homes, and the children can walk around safely on their own here.

Enjoy a lovely family holiday on the scenic island Rømø.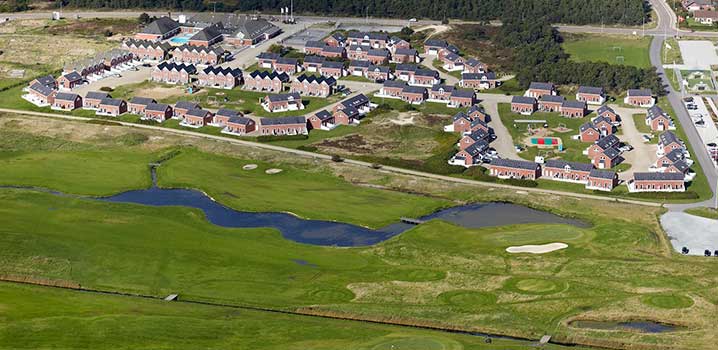 The holiday centre Rim Rømø creates the perfect settings for a cosy and active family holiday in scenic surroundings.
Indoor amenities - Free
Play room
Table tennis
Play Station
Reception • Open daily from 10 a.m. to 9 p.m.
Net café
Fitness
Outdoor amenities - Free
Outdoor playground
Boule
Outdoor swimming pool
Playing fields
Beach volley
Climbing wall
Street chess
Outdoor amenities - Not free
Mini golf • Adults: DKK 20,-. Children: DKK 10,-.
Tennis • DKK 65 per hour.
Reservations
The specifications of the activities are based on information from the centre. Sol og Strand makes reservations for changes in the facilities of the activity centre - including opening hours and prices.