21 Local offices
Our local offices are open all year round and are at your disposal for any assistance as to your holiday in a holiday home!
At Sol og Strand we have 21 local offices in charge of the inspection of the more than 6000 private holiday homes all over Denmark. The local offices are there in order to help you as to possible questions and tourist information.

Show on map
Opening hours
Our local offices are open all year round. Please note the various opening hours. They vary throughout the season in order that you always know exactly that we are there when you need us. Our competent employees are there to assist you to ensure you get a wonderful holiday in a holiday home.
Employees
In the local offices of Sol og Strand you meet our qualified and committed employees. They are at your disposal to answer your questions as to your holiday in a holiday home. At many of our local offices, the staff speak different languages and are therefore highly qualified to guide you in the language you prefer.
You can have tourist information at the local offices. The holiday advisers at your local office know what is happening in your area and the events coming up during your holiday. They have a profound knowledge about events and attractions in your area and are therefore able to guide you based on what you wish and need.
Service
At your local office, apart from general tourist information, you can rent cots, high chairs and linen packets. The offers vary from one office to another. So please contact your local office to hear about the options of interest to you.
Destinations for the local offices
Our 21 local offices are spread all over the country at our destinations. The various destinations have different offers and attractions to make your holiday in a rented holiday home unforgettable. At the tip of Denmark you find Skagen with its beautiful nature, museums, and exciting gastronomy. At the Grenen you can stand with one leg in Kattegat and the other one in Skagerak, since this is exactly where the two waters meet. Renting of holiday homes in Skagen makes room for cosiness and time to enjoy fresh fish and shellfish from the harbour. Along the west coast is Lønstrup, a cosy fishing village and a lovely holiday town with shops, cafés and exciting handicraft products. There is a lot of artware in Lønstrup and you will find small galleries and workshops that are all worth a visit.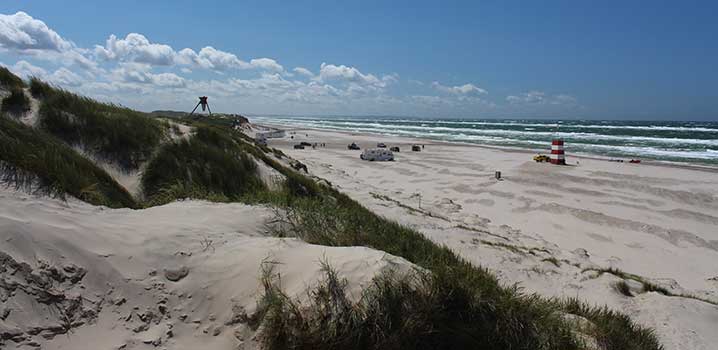 Løkken is also a popular destination for rental of holiday homes in the northwestern part of Jutland. Lovely beaches, a lot of restaurants, art, culture, and not at least interesting shops. In Løkken there is always some kind of action and in the summertime there are concerts, events, and guided tours. Løkken is definitely worth a visit and offers a lot of experiences for the whole family. Another popular area with rental of holiday homes is Blokhus. Just like in Løkken, there are lots of events in the summer period. Life in Blokhus is rich with lots of shops and restaurants, where you can enjoy your meal outside in the summer period. With one of the very best beaches in Denmark, renting a holiday home here in Blokhus is just perfect for enjoying the beach every day.
Nr. Vorupør is situated at the coast and has a lovely beach and big, preserved dunes and heath areas. Every day you can see the fishermen pulling their boats onto the beach, and quite often you can buy fresh fish and shellfish directly at the boats. Nr. Vorupør has good shops offering i.a. amber and cheramics, and in the town there is a museum and an aquarium. On the other side of the fjord to the south is Vejlby Klit. A beautiful area with holiday homes close to the North Sea and Ferring Sø. Enjoy the beautiful nature and take a nice walk in the tall dunes along the beach. Look for amber on the beach or enjoy the roaring waves in a lovely swim. Right between the North Sea and Ringkøbing Fjord is Søndervig. The beach, stretching over kilometres, invites you for a beautiful bathing holiday, pretty walks, and a lot of activity on the beach and in the water. Here you have the possibility of grappling with surfing or just going for a nice ride along the coast. In Søndervig there is a lot of things to experience for any member of the family, when you choose renting a holiday home for your vacation.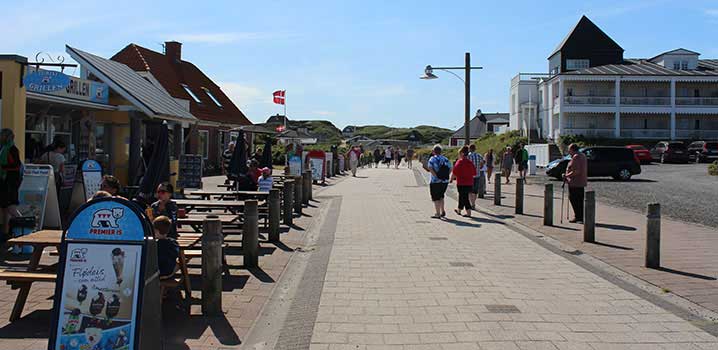 Go see the bird sanctuary Tipperne and the beautiful beaches, if you stay in a holiday home in Bjerregaard. This is a beautiful and characteristic natural area, where you can have wonderful walks and experiences in nature. If you live by the Ringkøbing Fjord you will have good possibilities of wind surfing. So, you can try your strength against wind surfing or enjoy the sight of the colourful sails on the waves. You might also visit the charming bathing town of Vejers offering a lot of interesting shops, artisans and restaurants. Apart from the cosy town life, Vejers has a wonderful beach, and behind the beach you find Langsø and Kærgaard Plantation. If you stay in a holidy home in Vejers a series of exciting experiences are waiting for you. Another popular destination for renting a holiday home is Blåvand. This is a nice holiday town, family friendly and offering a wide range of shops, restaurants, artisans, and attractions. Blåvand is furthermore a pearl for people, interested in history. Old concrete bunkers from the second world war are still to be seen on the beach as well as a number of museums.
Take the ferry to lovely Fanø and see the charming thatched roof houses and the narrow streets. Fanø is a wonderful place for rental of holiday homes and it offers a unique experience based on the old town environment and a splendid nature. A nature comprising a plentiful life of animals and plants. With a beautiful and long sandy beach Fanø is a lovely place for renting a holiday home. If you fancy a holiday in a holiday home on the islands, you could also rent a house at Rømø. Rømø is a popular place for renting a holiday home due to its wide beaches. Along the coast of Rømø you might be lucky to see seals sunbathing, and if you choose to go on a seal safari, you will get very close to them. Another wonderful island for a holiday home is Læsø. The nature on Læsø is very beautiful and you can go on horseback in order to experience the island in quite a different way. There are several artisans at Læsø and you will no doubt visit the iconic Læsø Saltsyderi, where you will learn about the seething process and even buy delicious seething salt to bring home.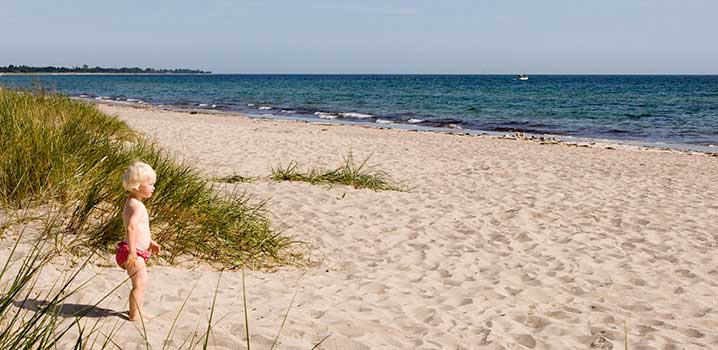 At the east coast of Jutland you find child-friendly beaches and in a holiday home in Hou you can really enjoy swimming in the calm water. Hou is an old fishing village, which characterizes the cosy town. Today there is a nice marina and the town offers several attractions and restaurants. Further south is the charming town Ebeltoft with cobbled streets and old houses. With a lovely marina, beautiful shops and attractions this is an eventful place to rent a holiday home. Also here you find child-friendly beaches and wonderful nature for you to enjoy when you just want to relax. Rent a holiday home at Als and experience the charm of the island with beautiful woodland for biking and walking. The beaches on Als are good and there are good possibilities of bathing and surfing. Perhaps you want to go fishing, and on Als there are possibilities of fishing off the coast, at sea or in Put & Take fishing parks. Another fascinating destination for renting a holiday home is the 700 years old market town Rudkøbing, a town that still has a lot of its initial appearance with beautiful, old houses and narrow, cobbled streets. The town offers a lot of handicraft and cultural events. If you would like to look at boats, you could go for a walk along the cosy marina and enjoy the view. In Rudkøbing there is a nice beach and beautiful nature, so this is a nice place for renting a holiday home.
Sealand offers many holiday homes and beautiful sights. The area Odsherred is surrounded by sea on three sides. We offer a diversity of nature, great and child-friendly bathing beaches, activities, culture, art and fresh locale ingredients. Because of the quite unique ice age landscape Odsherred has been appointed Denmark's first UNESCO Global Geopark. Flat expanses of countryside, long coast lines and breathtaking views are ideal for outdoor leisure activities: Bicyclists, hikers, anglers and water lovers will find paradise here. And last but not least, the centre of Denmark, the holiday area Rorvig, is located in Odsherred. In a holiday home in Gilleleje you can see the biggest fishing port, oozing of activity, on Zealand. Here you will find i.a. a smokehouse, and in several, interesting fishing shops and restaurants you can taste the delicacies. Gilleleje is an exciting town, close to the beach and woodland.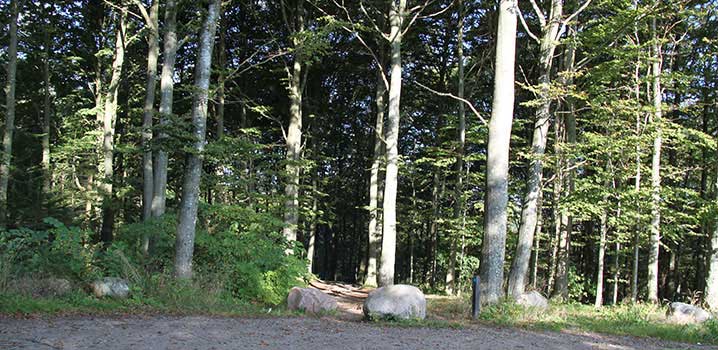 Visit the beautiful Falster, a destination with cosy holiday homes and a lot of activities. Beautiful, child-friendly sandy beaches, charming woodland, and a lot of activities such as e.g. golf and angling means that you can have an active holiday. Take a walk along the coast and you may be lucky to find a piece of amber. This is possible all the way along the coast of Falster, but in particular at Gedser Odde. You might also visit the island of sunshine, Bornholm, which is a popular destination for a holiday in a holiday home. Here you will find a big number of attractions and splendid nature. Visit the more than 800 years old round churches or go exploring the artisans on the island.
There are lots of exciting possibilities when you choose a holiday home for your holiday. Be tempted by our wide range of destinations. At all destinations, our people at the local offices are at your disposal to ensure that you get the best of holidays.
Company profile
Sol og Strand aims to place the holidaymakers in the centre of attention, provide Denmark's best service and be our guests' favorite holiday home rental agency.
Sol og Strands lokale håndsrækning
Vi har afsat 1 million kroner til lokale initiativer i det danske ferieland. Alle lokale foreninger kan søge om støtten, som uddeles i løbet af 2020.
Main office
The main office of Sol og Strand is situated in Northern Jutland. Here, the management, sales/marketing, data entry and finance department are located.
Local offices
The staff at Sol og Strand local offices, located in the holiday area all over Denmark, are ready to help with anything and everything during your holiday.
Guestbook
See what former holidaymakers think about the holiday home, area, service and price. In our guestbook you can review your holiday with marks from 1 to 5.
Security insurance
You can feel safe when you rent a holiday home with Sol og Strand, as we have included a cancellation and home insurance as well as on-call GP in the price.
History
Read the story of Sol og Strand, which after 40 years of holiday home rental in Denmark still is owned by the Danish family who founded the agency.