Rent holiday cottage in Nr. Vium
Holiday cottages in Nr. Vium, Western Jutland, Denmark!
The cosy village Nr. Vium is surrounded the lovely recreational nature of central Jutland In Nr. Vium you will find scenic nature, tranquillity, fresh air and plenty of space to expand. The small village is located about 30 kilometres east of the inlet Ringkøbing Fjord. Nr. Vium is surrounded by beautiful and fertile landscapes with fields, nature areas, woods, lakes and the stream Vorgod Å, which meanders past the village. The area is an ideal holiday destination for anglers and other, who enjoy sojourning in nature.
It is possible to buy groceries in the area, and 26 kilometres from here Herning offers shops, amusements, restaurants and sights (26 km).
Guest assessments from Nr. Vium
:
3
guests have granted an average assessment of
2

out of

5

possible stars.
Beach
Nr. Vium does not offer a bathing beach, but if you wish to swim, you can go to the inlet Ringkøbing Fjord and enjoy the shallow calm water (30 km). The North Sea is located about 40 kilometres towards west and offers long fine and sandy beaches with dunes and Blue Flag.
Nature
The pretty stream Vorgod Å meanders right past Nr. Vium, which moreover is surrounded by lush fields, plantations, forests, green spaces and lakes.
In the plantation Bjørnslev Plantage, just southeast of Nr. Vium, you can experience impressive landscape formations, which were created from ice and melt water many years ago, and follow some of the walking paths in the scenic area.
Activities
The area is ideal for anglers, who can devote themselves to their interests in undisturbed and scenic surroundings. The stream Vorgod Å contains river trout, rainbow trout, pike and eel. The lake Kulsøen near Troldhede is open for angling during the summer half, and here you are able to catch pike (4 km towards south).
A number of Put & Take fishponds are also available in the area. Try among others Højlund Put & Take near Videbæk (9 km), Stakroge Natur & Fiskepark (16 km) or Fahlbæk Sø Put & Take near Skjern (20 km).
Golfers can test the courses in Ringkøbing, Herning and Ikast among others.
In Herning you can use a swimming baths or visit Baboon City - an activity centre for the whole family.
Worth a visit
Jyllands Park Zoo near Havnstrup is open during the summer half and here you can experience, caress and feed more than 700 animals from the whole world. You can also ride on ponies or try the large chute, the carousel, the mini cars and the park train (11 km). By the scenic moor areas and the forest by the stream Karstoft Å you will find the former manor house Skarrildhus. Today, Skarrildhus is beautifully restored and surrounded by a picturesque serene and romantic rhododendron park with an idyllic old water mill (20 km).
Excursion spots
Visit the cosy town Herning, 'the capital of the moor', which is famous for its textiles, fairs and culture. Here you will find a number of galleries, the museum of Steen Steensen Blicher, the amusement centre Baboon City as well as shops and restaurants (26 km).
The brown coal fields of Søby formerly supplied most of Denmark with coal. Today the area consists of 6,000 hectares with unique nature, brown coal ditches and a museum, which has been established in one of the original houses (33 km).
Givskud Zoo is a combined lion park and zoo. Here you come close to the wild animals in their natural surroundings (59 km).
LEGOLAND® offers a number of amusements and activities for the whole family (57 km).
Copyright © 2003-2015 Sol og Strand Feriehusudlejning A/S
1 Holiday homes in Nr. Vium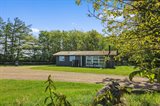 Standard +
3 evaluations in the
guestbook
45 km to water
78 qm
2 bedrooms
4 beds
1 toilet
Whirlpool: No


Contact info
+45 99444444
info@sologstrand.com
Daily 9 a.m. - 8 p.m.
Newsletter
Special offers and
news
.