Rent holiday cottage in Lem
Holiday cottages in Lem, Western Jutland, Denmark!
The landscape, surrounding Lem, is varied and characterized by i.a. meadow, forest, moor, inlet and a stream. From Lem the distance to the eastern shore of the inlet Ringkøbing Fjord is 5 km.
Lem is famous for its old blacksmith's trade, but in spite of the industry of the town, the lovely nature around the town invites holiday.

Read more about Lem, Western Jutland

Selection of: 1 holiday-homes
Best value: 14-12-2013 - 21-12-2013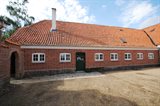 Top class

0 evaluations in the
guestbook
20 km to water
125 qm
3 bedrooms
8 beds
2 toilets
Whirlpool: No



Newsletter
Special offers and
news
.