Rent holiday cottage in Jungshoved
Holiday cottages in Jungshoved, Sealand, Denmark!
In this holiday area you can see the ruins of an old manor house, which, according to the legend, was build by the pirate Joffne. The manor house was named after Joffne and called 'Joffneshoved', which later became Jungshoved.

Read more about Jungshoved, Sealand

Selection of: 2 holiday-homes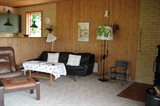 Standard +

0 evaluations in the
guestbook
250 m to water
68 qm
2 bedrooms
4 beds
1 toilet
Whirlpool: No



Newsletter
Special offers and
news
.