Rent holiday cottage in Vrensted
Holiday cottages in Vrensted, NW Jutland, Denmark!
The charming village Vrensted is located just a few kilometres behind the North Sea and one of Northern Europe's best bathing beaches. Here you live in serene and unspoiled surroundings between fields and green spaces.

Read more about Vrensted, NW Jutland

Selection of: 1 holiday-homes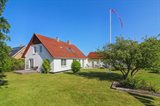 Standard +
2 evaluations in the
guestbook
6 km to water
130 qm
3 bedrooms
6 beds
2 toilets
Whirlpool: No



+45 99444444

info@sologstrand.com
Daily 09-20 hrs
Newsletter
Special offers and
news
.