Rent holiday cottage in Vrensted
Holiday cottages in Vrensted, NW Jutland, Denmark!
Vrensted is located in cosy and rural surroundings, 7 km inland behind the North Sea, the holiday area Grønhøj and the holiday resort Løkken. The charming village Vrensted is located just a few kilometres behind the North Sea and one of Northern Europe's best bathing beaches. Here you live in serene and unspoiled surroundings between fields and green spaces. From Vrensted the distance to sea, sights, amusements and commercial towns is short.
In the nearby holiday resort Løkken you will find a lovely beach, art, culture, activities, shops, restaurants and pubs - everything that the family can expect from a holiday by the North Sea (7 km).
It is possible to buy groceries in the area, and the nearby towns Brønderslev (15 km) and Hjørring (23 km) offer good shopping opportunities.
Guest assessments from Vrensted
:
5
guests have granted an average assessment of
2,8

out of

5

possible stars.
Beach
The beaches of Grønhøj and Løkken are located just 7 kilometres from Vrensted. The fine wide and sandy beach lies in front of a belt of high dunes with lyme grass. Løkken is characterized by its cosy white beach huts along the dunes. Here you will also find more bunkers from WW II that can provide shelter on a windy day.
The sandy beach and the roaring North Sea invite swimming, walks and all kinds of beach and water activities. The westerly wind creates good conditions for surfers.
The beaches of the area are awarded with the Blue Flag.
Enjoy the magnificent sunset over the North Sea from the beach or the dunes.
Nature
Vrensted is surrounded by farm land and green spaces. The area between the North Sea and Vrensted varies between dune landscapes, fertile meadows and forest areas.
Thise Bakker is a hilly and very scenic area with a network of walking paths, which lead you around in the area. From the hills you can enjoy the view of the large bog Store Vildmose and the North Sea (5 km).
Near Lønstrup the 90 m high sand dune Rubjerg Knude rises directly from the sea and creates a desert-like landscape. The sand dune in front of the lighthouse Rubjerg Knude Fyr now exceeds the height of the lighthouse (17 km).
Activities
The natural surroundings invite walks and bicycle trips in the area around Vrensted. In Action House in Løkken you can enjoy yourselves with bowling, lasergame, paintball, go-carts, pintable arcade, electrical cars, internet café, restaurant and discotheque (7 km).
Along the beaches of the North Sea you can swim, sunbathe, play ball and walk.
Year round anglers can fish from the pier in Løkken, from the beach in the nearby town Nr. Lyngby and in the Put & Take fishponds of the area.
The golf courses in Løkken (7 km), Brønderslev (15 km), Blokhus (19 km) and Hjørring (23 km) offer challenges for both beginners and experienced golf players.
You can paraglide and hang-glide from the 15 km long cliff of Nr. Lyngby. The cliff is between 30 and 100 metres high (10 km).
Worth a visit
Visit the glass gallery 'Den Blå Elefant' in Vrensted and see the interesting glass art. You can even try to create your own glass art here.
Just north of Vrensted you can visit Børglum Kloster - a beautiful old monastery from the year 1180 with atmosphere, varying exhibitions, a church and park-like surroundings (6 km).
In Family Farm Fun Park in Vittrup you can stroke and feed the domestic animals, ride on ponies, drive a toy tractor, test the water cycles on the large lake and make a picnic in the scenic surroundings (6 km).
In the charming holiday resort Løkken you will find old fishing houses, museums, galleries, craftsmen, a house of sweet boilers, a candle factory, restaurants, pubs and shops. On the beach of Løkken you can follow the activities as the fishing vessels are drawn up on the beach after the fishing expedition and perhaps buy fresh fish for your dinner.
Excursion spots
Fårup Sommerland & Aquapark offers Denmark's greatest aquapark and more than 50 amazing amusements for the whole family, like for example Denmark's fastest wooden switchback Falken (12 km).
In Nr. Rubjerg you can experience Rubjerg Knude - a 90 m high hill island, created by the inland ice, and the lighthouse Rubjerg Knude Fyr, which is partially buried in sand (13 km).
Hedeland in Brønderslev is Northern Europe's largest rhododendron park with thousands of bushes, classified in more than 125 species, and during the summer you can enjoy a magnificent floral splendour here (15 km).
The garden 'Haven i Hune' is a 6,500 m2 beautiful colourful and inspiring garden in Hune with sale of plants as well as a café (18 km).
Visit the idyllic fishing hamlet Lønstrup - an evocative holiday resort with beautiful houses, cosy streets and galleries (18 km).
Nordsøen Oceanarium in Hirtshals is Northern Europe's largest aquarium. It contains 4.5 mio litres of water and about 3,000 fish (35 km).
Copyright © 2003-2015 Sol og Strand Feriehusudlejning A/S
1 Holiday homes in Vrensted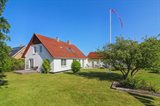 Standard +
5 evaluations in the
guestbook
6 km to water
130 qm
3 bedrooms
6 beds
2 toilets
Whirlpool: No


Contact info
+45 99444444
info@sologstrand.com
Daily 9 a.m. - 8 p.m.
Newsletter
Special offers and
news
.