Rent holiday cottage in Kandestederne
Holiday cottages in Kandestederne, NW Jutland, Denmark!
Kandestederne is a scenic holiday area by the North Sea in the top of Denmark. The holiday home area Kandestederne is located between the holiday areas Gl. Skagen and Bunken on the west side of the headland Skagen Odde. The area offer fantastic nature with high dunes, Europe's largest desert and a lovely bathing beach. The area is an old fishing and peasant society, which has developed into a charming holiday area with a cosy and easy-going atmosphere. Here you stay in tranquil surroundings, in a short distance from the more vivid holiday area of Skagen, where you can shop, dine in cafés and restaurants as well as visit attractions.
Guest assessments from Kandestederne
:
14
guests have granted an average assessment of
4,21

out of

5

possible stars.
Beach
By Kandestederne you can enjoy a wide sandy beach with high dunes, from which you have a fantastic view of the sea and the hinterland with dunes. You can drive in your car on the beach, and here you will find plenty of space for swimming, playing and relaxing. Do not miss the beautiful sunset over the sea from here.
Nature
The holiday area is located in an unspoiled dune area, right by the largest drifting dune in Denmark. The impressive dune Råbjerg Mile covers an area of app. 2 square kilometres and in its highest place it is 35 metres high. The drifting dune moves several metres towards north-east each year because of the sand drift.
On the other side of the headland Skagen Odde you can visit the scenic dune plantation Bunken Klitplantage, where you can walk in dunes and a plantation with spruces and pines.
Activities
The scenic nature area invites hikes in the dunes and plantations, on Råbjerg Mile and on the beach. If you bring your bicycles, the area offers good bicycle paths all the way to Skagen. You can also grapple with the 15 km long MTB-route in the dune plantation Skagen Klitplantage.
Just south of Bunken Klitplantage you can try the challenging 18-hole golf course Hvide Klit. Here you can make use of a practice bunker and a Par 3 course with 6 holes among other things.
Kandestederne offers good riding opportunities. From the local farm and stable Langagergaard you can go on a guided ride on Icelandic horses in the plantations or on the beach.
Worth a visit
Råbjerg Mile is Denmark's largest drifting dune and has created a miniature desert behind the shore through the ages. The drifting dune is app. 35 m high and from the top you can enjoy a magnificent view of the sea and the area.
Visit Farm Fun by Ålbæk - a familiy-friendly animal farm with playgrounds and fun play equipment like jumping pillow, maze, ropeway and much more. Here you can come close to the animals of the farm, pat them and ride on ponies among other things (12 km).
Den Tilsandede Kirke is a church, which is buried in sand. The many years of sand drift has covered the church, and today you can only see the steeple of the church protrude through the ground (14 km).
In Skagen you can experience beautiful town environments with idyllic yellow Skagen houses and enjoy the atmosphere of the marina. Skagen offers many special shops, cosy pubs and restaurants as well as more galleries and museums. Don't miss a visit to the idyllic and fashionable area Gl. Skagen (15 km).
Excursion spots
In the eagle reserve Ørnereservatet in Tuen you can experience some of the world's largest eagle species and watch them get fed in the air. See when the peregrine falcon, gyrfalcon, golden eagle and white-tailed eagle among others demonstrate their skills (19 km).
In Nordsømuseet in Hirtshals you can experiment the large saltwater aquarium Oceanariet with many different fish species from the North Sea. You can e.g. see the large sunfish and small sharks here. You can also touch some of the fish and sea mammals (41 km).
In the amusement park Fårup Sommerland you can try more than 50 interesting rides for the whole family, among others Denmark's largest waterworld, Orkanen - Northern Europe's only roller coaster, which also takes you below the water, Lynet - one of Denmark's wildest roller coasters, and Falken - a giant wooden roller coaster. Fårup Sommerland has been elected Scandinavia's best amusement park in 2012 and 2013 (85 km).
Copyright © 2003-2015 Sol og Strand Feriehusudlejning A/S
1 Holiday homes in Kandestederne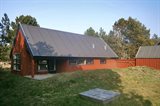 Special class
14 evaluations in the
guestbook
1,6 km to water
74 qm
2 bedrooms
6 beds
1 toilet
Whirlpool: No


Contact info
+45 99444444
info@sologstrand.com
Daily 9 a.m. - 8 p.m.
Newsletter
Special offers and
news
.