Rent holiday cottage in Herslev, Lindelse
Holiday cottages in Herslev, Lindelse, Funen, Denmark!
The holiday area Herslev, Lindelse is located by the idyllic bay Lindelse Nor, on the eastern coast of Langeland, app. 8 km south of Rudkøbing. The area offers 3 cromlechs - among others 'Herslev Stenen', the mill Lindelse Mølle - a preserved Dutch windmill with gallery, the inn Lindelse Kro from 1798 as well as the pretty church Lindelse Kirke from the 12th century, which is situated on a hill top.

Read more about Herslev, Lindelse, Funen

Selection of: 1 holiday-homes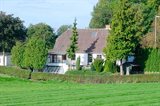 Standard
0 evaluations in the
guestbook
2 km to water
114 qm
2 bedrooms
5 beds
2 toilets
Whirlpool: No


Contact info
+45 99444444
info@sologstrand.com
Daily 9 a.m. - 8 p.m.
Newsletter
Special offers and
news
.