Sol og Strand
is a member of:
About us
About Sol og Strand
Your holiday is important! You talk about where to go, what to see and when you want to leave, and you look forward to finally getting away from your everyday life and just enjoy being at leisure. Your holiday is precious and you want to have a successful holiday, where all the practical stuff just works. At Sol og Strand we know that the holiday is important, that time is precious and that holiday experiences last for ever. As H.C. Anderson once wrote: To travel is to live. At Sol og Strand we want to assist you in getting the best holiday in Denmark.
Holiday in a holiday home
Sol og Strand rents Danish holiday homes. Unfortunately, we cannot be of service as to holiday homes in other countries or other kinds of overnight stays such as e.g. hotels or camping. This means, however, that we can help you find the perfect Danish holiday home. We have profound knowledge about the Danish business of holiday homes. We know what our guests want, which amenities you want in the holiday home and your general requirements to your holiday. Our holiday homes are all privately owned and this gives us a wide range of holiday homes for rental. This gives you the possibility to find exactly the holiday home that you think best to your taste. We develop, test and update on a regular basis our systems and adapt search fields and the order flow to make it easy for you to find and hire the holiday home of your dreams. Should you nevertheless get lost on our website, our office assistants and holiday advisors are ready to pick up the phone. You are also welcome to drop in at one of our many local offices, situated all over Denmark and have a nice talk with one of the office clerks.
Online guestbooks
Every Sol og Strand holiday home has its own online guestbook Here you can read about holiday adventures and experiences of other guests in our holiday homes. We are always happy, when a guest chooses to share his experiences with us and the owner of the holiday home. After your stay, you are more than welcome to share your experiences concerning the holiday home in the guestbook or at Trustpilot. We have a little more than 17000 guestbook entries and in general, our guests are very happy with us and our holiday homes, which we of course highly appreciate.
Extracts from the guestbooks of our holiday homes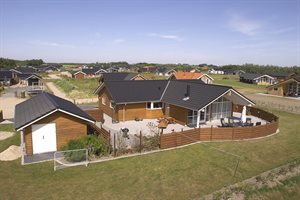 The house and the yard was very nice and suitable for families with children. The kitchen was well equipped (except the frying pans that were worn out and the knives that needs to sharpened). The house exceeded our expectations and we had a good holiday.
The house is generally nice and comfortable and the view from the window is just wonderful. The kitchen is well equipped and the living room with the fireplace is very cosy. However the bedrooms are small and it was difficult to put the cot in any of them. Bad impression made on us old and dusty plastic decorations placed all around in the house...
The house is just lovely - very comfortable and modern. The kitchen is well equipped. Everything was clean and in working order. The area is very quiet and calm and only cows coming nearly to the terrace may be disturbing but the children were very happy to see them every day.
You can feel secure when hiring a holiday home with us.
As the only rental agency in Demmark, Sol og Strand has chosen to take out a cancellation, home, and insolvency insurance on behalf of our guests. We call it our safety package, and the insurance is free of charge. This means that you can go on vacation in a holiday home, knowing that you are in extra good hands. You are extra well secured before, after and of course during your stay in the holiday home.
It's about the entire holiday.
We know that a holiday consists of more parts and not just a place to sleep. Over the years we have collected information about small and big attractions in Denmark and made them easily accessible to you. At each holiday home you will find the tab "Show on map". Here you get an overview of all attractions in the vicinity of the holiday home. This makes it easy for you to see which attractions should be part of your holiday. We have also developed an app, which also gives you access to information about the attractions, when you visit the holiday home. Something quite unique is that we have entered in cooperation with some of the biggest attractions in Denmark. This means that when you hire a holiday home at Sol og Strand, you can at the same time buy tickets with a discount, e.g. for LEGOLAND, National Aquarium Denmark "Den Blå Planet" or Odense ZOO.

We look forward to welcoming you in one of our holiday homes.
Contact info

+45 99444444

info@sologstrand.com
Daily 9 a.m. - 8 p.m.
Newsletter
Special offers and
news
.